Print Page
PVC Sound Barrier – Decoupler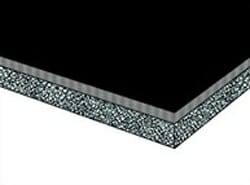 PVC Vinyl Barrier with Closed Cell Foam Decoupler
Made to last. Acoustical Surfaces offers a PVC solution tailored for the needs of professionals and homeowners alike.
Key Features of PVC Sound Insulation:
Effective Noise Reduction: Our PVC insulation has been engineered to meet stringent noise reduction requirements, offering a quieter environment for both residential and commercial spaces.
Durability: With resistance to moisture, mold, and mildew, our sound insulation ensures longevity and consistent performance.
Thermal Insulation: acts as a barrier from both heat and cold.
Eco-Friendly: Our insulation is produced with PVC, minimizing environmental impact.
Whether you are in the construction industry, a property developer, or simply a homeowner seeking better acoustic solutions, our PVC Sound Insulation offers a reliable, high-quality choice. Choose quality and efficiency. Order from Acoustical Surfaces for your sound insulation needs.
Product Testing & Information

Product TAG
---
Product Specs
PVC Insulation Sheet Made From Mass Loaded Vinyl
High density limp material with acoustic foam decoupler to reduce noise transmission.
PVC closed cell foam board reduces noise transmission through ceilings, walls, floors, machinery and equipment, enclosures, PVC waste pipe, HVAC ducts. Apply on any solid surface for effective noise containment.
Materials can be mechanically fastened
Sound Transmission Loss (STC)
125
250
400
500
1K
2K
4K
5K
STC
PVC Barrier – Decoupler
13
17
19
21
28
33
40
42
27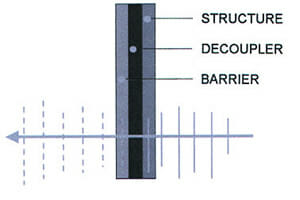 Acoustical Pipe lagging dramatically reduces the amount of noise that transmits through the walls of ductwork, PVC and cast iron pipes. When a decoupler closed cell sound deadening foam layer is added sound transmission is improved.
Caution: Polyurethane foam is flammable and may emit toxic fumes when burned. Do not use PVC closed cell foam board near open flame. Check local codes for allowed use. Manufacturer assumes no liability.