Print Page
Climate Seal™ Acoustic Series Window Insert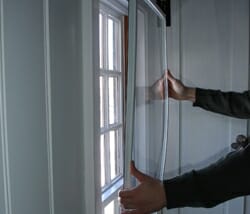 Maintenance
View Climate Seal Acoustic Series Product Page
Washing
While the Flexible Climate Seal Interior Magnetic Acoustical Window System can be washed with mild soap or dishwashing liquid mixed with lukewarm water, it is strongly recommended that anti-static cleaner/polish solutions be used. ASI exclusively features Brillianize Cleaner®. We believe it to be the best cleaner available. It is an anti-static cleaner/polish, which will prevent electrostatic charge, and will leave the surface with a brilliant shine while resisting finger marking and repelling dust. Every time you polish your Climate Seal you will also build up an invisible layer of protection against potential scratching.
This is not to say that you need to have a separate cleaner for your primary window's glass and the Climate Seal's acrylic. Brillianize cleaner is highly recommended for all shiny hard reflective surfaces, except for flooring. Please view the supplies below for a more detailed description of our accessories.
Use a soft cloth or chamois (we recommend WypAll®) and as much solution as possible.
It is recommended that you wipe in a vertical and horizontal direction. Try not to wipe in a circular motion, because should there be any grit on the acrylic, you will be running it over the surface many times.
Always wipe and polish until completely dry and the surface feels as "smooth as ice".
DO NOT use paper towels because they are naturally abrasive.
DO NOT use ammonia-based cleaning fluids (such as WINDEX), scouring compounds, gritty cloths, leaded or ethyl gasoline, or strong solvents such as alcohol, acetone, carbon tetrachloride, etc.
To remove minor scratches, apply a thin coat of a good grade of automobile paste wax (not a cleaner/wax combination) with a soft, clean cloth to protect the surface of the acrylic sheet and maintain its luster.
To remove grease, tar or paint, use good quality naphtha.
Storing
It is preferable that the windows be inserted in poly bags and stored horizontally on their side. This helps prevent scratching from dirt particles that may be present on the surface when the windows are stored flat. In storing horizontally on its side you ensure the Climate Seal window will maintain its original shape, as it is a flexible product.
Note: There is no need to store the Flexible Climate Seal Interior Magnetic Insulating Window if the primary window is not going to be used for ventilation. The Flexible Climate Seal Interior Magnetic Insulating Window saves energy in the summer by reducing heat gain, which lowers air conditioning costs.
Product Testing & Information
---
Supplies & Accessories
Brillianize® Cleaner
Brillianize is highly recommended for cleaning and polishing Plexiglas, Lexan, Acrylite, and Lucite plastics or any hard, shiny, non-absorbent surface.
Anti-Static:
Surface Repels Dust
Invisible:
Cleans & Glazes In One Operation
Resists Scratching
Resists Finger Marks
Easy to Use:
Shake container, spray on surface, rub briskly with soft cloth. Polish until surface is brilliant. Do not use on surfaces to be painted.
Environmentally Safe:
Non-toxic & non-hazardous to people & the environment. No strong odors or vapors. Non-flammable.
All Purpose Polish:
Brillianize cleaner & polish makes shiny surfaces dazzle by safely imparting a clean, brilliant glaze onto non-porous materials.
Wypall® Wipes
WYPALL® L30 ECONOMIZER® Wipers are specifically designed to replace airlaid wipers, which have "pool-prone" pore areas. They are ideal for a variety of light-duty maintenance, processing and janitorial wiping tasks.
Features:
Non-Abrasive
Re-Usable
Lint-Free