Print Page
QuietStone™ Ceiling and Wall Tiles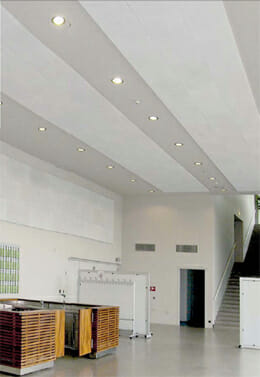 Recycled Glass Acoustic Ceiling and Wall Solutions
QuietStone Ceiling and Wall Tiles are made from 100% recycled glass, sintered to form rigid, lightweight, and porous sound absorbers. QuietStone recycled glass ceiling and wall tiles have exceptional acoustical properties and are easy to install indoors or outdoors. Make sure that your next project has the proper materials to look better, sound better, and help you build a greener space with Acoustical Surfaces. Read more about QuietStone specs, and some features of the product, below.
Made from 100% Recycled Glass
Exceptional Acoustical Properties
Two Styles – Adhere to Walls and Ceilings or Lay-In Standard 15/16″ Ceiling Grid System
QuietStone Plaster provides a seamless appearance
Can be custom colored on-site using non-bridging paints.
Product Testing & Information

Product TAG
---
Product Specs
QuietStone Ceiling and Wall Tiles are made from 100% recycled glass sintered to form rigid, lightweight and porous sound absorbers. These recycled glass ceiling and wall tiles are ASTM 84 Class 1 (A) fire-rated and offered for adhesive (QuietStone V) and lay-in ceiling grid (QuietStone E) applications.

Other QuietStone Products Include:
QuietStone pa81 or pa101 Adhesive (pa81 for concrete, masonry and drywall; pa101 for plywood and metal surfaces)
QuietStone pa85 Plaster (for seamless, monolithic appearance)
QuietStone pt17 Primer
QuietStone pt13 Sealer (for weather-exposed conditions)
QuietStone V Acoustic Glass Panels – Adhesive Applications on Walls and Ceilings

24″×24″×2″ Thickness (610×610×50mm)
24″×48″×2″ Thickness (610×1220×50mm)
Tiles offer two edge options: One face of the tiles feature 3/8″ (9 mm) chamfer beveled edges, while the reverse face has square edges.

QuietStone E – Ceiling Grid Applications
24″×24″×1″ Thickness Nominal (604×604×25mm)
24″×48″×1″ Thickness Nominal (604×1213×25mm)
Slightly Beveled Square Edge
QuietStone V

Adheres directly to walls or ceilings
Roll on QuietStone pt17 Primer to existing substrate. Apply QuietStone pa81 or pa101 Adhesive using 3/8″ tooth trowel to the back of each acoustic wall panel (be careful not to get adhesive on the visible tile face)

Create a seamless, monolithic appearance by using the square edge tile face and rolling on a layer of QuietStone pt17 Primer; then trowel two layers of QuietStone pa85 Plaster

In outdoor, weather-exposed conditions, apply QuietStone Sealer for added durability of recycled glass ceiling and wall tiles

QuietStone E
Lay-in standard 15/16″ ceiling grid system Sound Absorption Material 100% recycled glass
Physical Data
Material
100% Recycled Glass
Density (ASTM D1622-08)
16.79 lbs./ft
Fire Resistance (ASTM E 84)
Class 1
Flame Spread (ASTM E 84)
0
Smoke Density (ASTM E 84)
0
Compression Strength
165 psi
Thermal Resistance (ASTM C518-04)
Effective R Value 3.24
Noise Reduction Coefficient – QuietStone
Description
Frequency (Hz)
125
250
500
1000
2000
4000
NRC
QuietStone V Acoustic Glass Panels – Test ASTM C423-90a – Mounting Type A
2″ (50 mm) – Adhered & Painted
0.14
0.60
1.09
0.96
1.02
1.3
0.90
2″ (50 mm) – Adhered Without Space Between Tiles
0.16
0.63
1.15
0.91
0.98
0.99
0.90
2″ (50 mm) – Adhered & Plastered
0.26
0.75
0.86
0.62
0.66
0.57
0.70
QuietStone E – Test ASTM C423-90a – Mounting Type E
1″ (25 mm)
0.45
0.55
0.60
0.75
0.80
0.85
0.70