Print Page
Acoustic Rubber Flooring Underlayment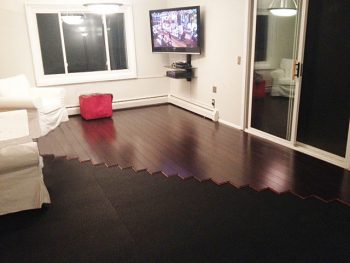 ACOUSTIK™ Underlay
Keep your home, business, or next project more acoustically sound with ACOUSTIK™ Sound Deadening Floor Underlay. This high-performance material is made of recycled rubber material for a greener solution to soundproofing. It is easy to install, cost-effective, and once installed is undetectable besides the quiet it provides. Learn more about ACOUSTIK™ Sound Deadening Floor Underlay below.
Features & Benefits
High-performance noise control
Cost-effective
Recycled rubber materials
Provides STC & IIC ratings
Dampens vibrations
Comfortable and resilient
Easy to install and work with
Sold by the roll
Works with most flooring assemblies
May contribute toward LEED(R) credits


Acoustic rubber flooring underlayment is commonly used beneath hardwood flooring, laminate hardwood, and ceramic tile to reduce noise from foot traffic, impact sound, and other sources.
In addition to providing sound insulation, acoustic rubber flooring underlayment also offers other benefits such as cushioning and thermal insulation. It can help to protect the subfloor from damage caused by moisture or impact, and can help to extend the life of the finished flooring.
Product Testing & Information
Product Specs

Installation Instructions

CSI Specifications

Construction Details

Acoustical Tests

FIIC Test at Carbonell

FIIC & FSTC Field Test

FIIC Test 3/8″

Flammability Test

Critical Radiant Flux Determination

Recycled Content Certificate
Product Testing & Information

Product TAG
---
Products Spec
Soundproof Floor Underlay. Homes, Offices, Condos, Home Theaters and Sound Rooms
4′×25′ – for 1/4" and 3/8" thickness
4' x 20' - for 1/2" thickness

Sold in full rolls.
Class C Fire Rated per ASTM E84
Testimonial: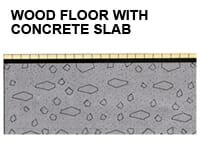 COMPOSITION:
Wood Floor
Adhesive
8-mm (5/16″) Acoustik Membrane
Adhesive
Concrete slab
FIIC 62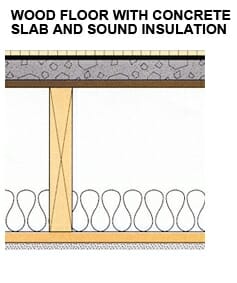 COMPOSITION:
Wood Floor
Adhesive
8-mm (5/16″) Acoustik Membrane
Adhesive
38-mm (1 1/2″) Concrete Slab
11.1-mm (7/16″) Particleboard
38×235-mm (2″×10″) Floor Joist
RSI 1.470-mm (2 3/4″) Sound Insulation
FIIC 61
25 Year Limited Warranty:
The 25 year limited warranty is offered by Tuile Duro Inc. Acoustik is warranted against degradation of the physical properties of the products rubber material when installed in accordance with the  manufacturer's installation instructions. The limited warranty covers replacement of the Acoustik product only, labor, materials and other costs to repair and replace floor components are not warranted no other warranty is either expressed or implied. All liability associated with the use of Acoustik is assumed by Tuile Duro Inc.
Adhesive