Print Page
QUIET LIGHT™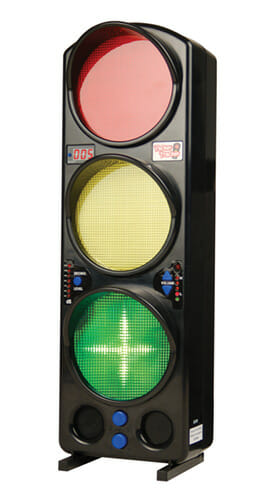 The Fun Way to Reduce Classroom Noise
Features:
Portable & Easy For Monitoring Noise Levels In Classrooms, Daycare Or At Home
Traffic Light Is Computerized With Adjustable Sound Level Meter
Manually Turn Different Colored Lights On, If Desired
User Has The Option Of Turning Siren Sound Off
Technical Information:
Traffic Light is 17″ Tall, 5.5″ Wide, and 3.25″ Deep
Approximately 3.5lbs
Uses highly efficient LED's
Standard Power Outlet, 10′ Power Cord Provided
Can Be Mounted On The Wall Or Stand On Its Own
Product Testing & Information
---
Classroom Management With QUIET LIGHT™
The Quiet Light classroom noise monitor traffic light will signal when there is too much noise being made. Select the appropriate sound level for your situation and let the Quiet Light be an audio-visual reminder when the noise level gets too high.
This classroom noise level meter is perfect for K-12 classroom teachers to use with their students to manage classroom noise. Acceptable levels of noise can be adjusted for quiet activities or louder group work.
Drama departments can incorporate this unit as a quiet signal to alert backstage cast members of inappropriate off-stage noises.
Nursery schools with hearing-impaired students can use this classroom noise monitor as a visual signal.
University Teacher Prep Programs can use the unit to model appropriate classroom noise management strategies.
Product Specs
17″ Tall, 5.5″ Wide, 3.25″ Deep
Adjustable from 50db to over 110db