Print Page
VBlok VB-2 Vibration Damping Sheet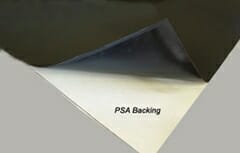 Vibration Damping Sheet
Lightweight, Moldable, High Performance Design
Aggressive Adhesive Withstands Temperatures in Excess of 250°F
Stretches up to 40% for 100% Bonding to Irregular Surfaces
Greatly Reduces Structural Fatigue & Associated Failures
Reduced Installation Time – Simply Peel & Stick
No Unpleasant Odors
Paintable
Applications:
Automotive Body Panels
Marine – Hull Bullhead
Sheetmetal Chutes, Hoppers & Ducting
Air compressors & Machine Tools
Audio Transports & Mechanisms
Product Testing & Information

Product TAG
---
Product Specs
VB-2 is a high-performance, lightweight, vibration damping sheet that has been engineered to convert vibration energy into low level heat through viscous friction. VB-2 vinyl vibration absorbing materials feature a silica-mica and ceramic mineral load. This vibration damping sheet material offers significantly higher damping performance than asphalt based materials. VB-2 vibration absorbing material is highly moldable and features an aggressive acrylic adhesive which allows for 100% adhesion to a vibrating structure.

Automotive body panels constructed of sheet metal, fiberglass or plastic vibrate at various frequencies. If they vibrate at a high rate, noise can be heard throughout the passenger compartment and contribute to driver fatigue. This type of noise can also negatively affect the performance of an auto sound system. VB-2 will reduce vibration of the body panels by increasing their "mass" and converting the vibration energy (mechanical) into thermal energy. The installation of VB-2 vibration absorbing material will assist in reducing interior noise levels as well as improving performance from auto sound systems by preventing the conversion of sound energy into vibration energy. VB-2 may also be used to create or replace flimsy plastic or paper vapor barriers behind interior panels.

VB-2 vibration absorbing material is an important member of a specialized family of high performance damping products engineered to work together. Consulting with an Acoustical Surfaces Specialist will allow you to select and combine these products to transform your personal space into the ultimate environment.