Print Page
Pipe Noise S.T.O.P.™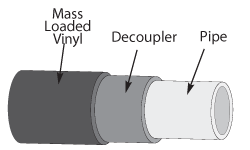 Mass Loaded Vinyl External Pipe Lagging
Reduces Sound Transmission
Contains Intrusive Noise
Improves Health and Safety
Provides Thermal Insulation
Product Testing & Information

Product TAG
---
Product Specs
Mass Loaded Vinyl with PVC Foam
High density limp material with acoustic foam decoupler to reduce noise transmission.
Reduces noise transmission through ceilings, walls, floors, machinery, & equipment, enclosures, PVC waste pipe, HVAC ducts.
54″ wide × 20′ Roll, custom sizes available.
UL 94-HFTI Class C (Class A Available Upon Request)
Metal collars or bands. Pipes can be wrapped and taped in place.
Airborne sound transmission class/STC 27 per ASTM C423.
Mass Loaded Vinyl External Pipe Lagging – Sound Transmission Loss (STC)
125
250
400
500
1K
2K
4K
5K
STC
Mass Loaded Vinyl Pipe Lagging
13
17
19
21
28
33
40
42
27
Acoustical Transmission Loss properties are for a single layer of barrier material. Actual STC of pipe wrap insulation applied to piping or other structures will vary in performance.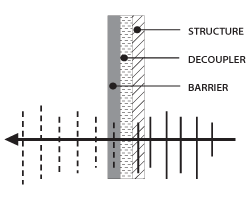 Pipe wrap insulation dramatically reduces the amount of noise that transmits through the walls of ductwork, PVC and cast iron pipes. When a decoupler layer is added sound transmission is improved.
CAUTION: Polyurethane foam is flammable and may emit toxic fumes when burned. Do not use near open flame. Check local codes for allowed use. Manufacturer assumes no liability.