Noise S.T.O.P.™ Low VOC Contact Spray Adhesive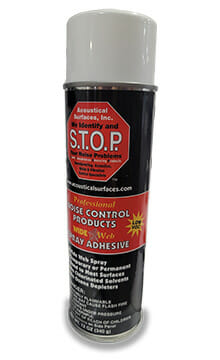 Heavy Duty Wide Web Spray Adhesive
Introducing a low VOC alternative to our popular Noise S.T.O.P.™ Contact Adhesive Spray that provides exceptional bonding performance.

Our contact adhesive spray is incredibly versatile and can bond a wide range of materials, including foam, fabric, cotton, fiberglass, polypropylene, leather, cardboard, most plastics, and many others. Whatever the application for your noise control or pro audio project, you can rely on this low VOC adhesive spray to get the job done.
Product Features
Wide Web Spray
Low VOC water white web adhesive
Fast tack time, low soak in
No ozone depleters or chlorinated solvents
Waterproof, fleixble, translucent, and doesn't stain
Temporary or permanent bond to most surfaces
---
38.4%. VOC compliant for CA & OTC.
Aerosol Flammability Level
Maximum Service Temperature
Directions:
Proper usage of this heavy-duty contact glue spray requires several important steps. Prior to application, it is essential to shake the can thoroughly to ensure a consistent mix of the adhesive. Additionally, it is critical to avoid aiming the valve at one's face at all times, and to hold the can upright during application. It is recommended to apply the adhesive in a side-to-side motion at a distance of 10 to 14 inches from the intended surface.
To prevent any potential issues with clogging, it is advised to turn the heavy-duty contact glue spray upside down and spray for two seconds after completing a specific application. In cases where adhesive accumulates around the nozzle, it is best to wipe it clean while still wet. In instances where it has dried in the valve opening, the use of a degreasing solvent may be necessary to remove the blockage. Following these instructions will ensure optimal usage of this adhesive product.
Warning
This product is flammable and contains Acetone. Use it in well-ventilated areas and keep it away from heat, sparks, or flames. Do not swallow it or induce vomiting if ingested. If you inhale it, move to fresh air and call a physician. If it gets into your eyes, flush with water for 15 minutes. For skin contact, wash with soap and water. Do not puncture or incinerate the container and keep it away from children. Additional safety information including ingredients can be found in the SDS (Safety Data Sheet) on this webpage.