Print Page
Acousti-Gasket™ Tape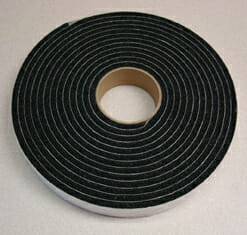 Features:
Build Quieter Spaces
Greatly Increases Floor, Ceiling & Wall STC & IIC
Dissipates Sound Energy
Peel & Stick Application
Easy to Apply

Great for

Irregular Surfaces

Reduces Vibration and Noise Transfer
Cost-effective Soundproofing Solution

Product TAG
---
How This Soundproofing Tape Works
Acousti-Gasket acoustic rubber gasket tape features new technology that uses a cellular membrane as its gasket material to dramatically reduce vibration transfer through hard surfaces. With its peel and stick uniform seal application, this soundproofing tape is super easy to apply.
How does this soundproofing tape reduce Sound Transmission and vibration transfer through common walls, floors, doors, windows, and ceilings? Acousti-Gasket acoustic rubber gasket tape is made from low density and viscoelastic cellular rubber, which means it is a poor transmitter or conductor of sound. It will dissipate sound energy. Because of its easy application and simple materials, Acousti-Gasket is extremely versatile as well as cost-effective. People all around the world are using Acousti-Gasket viscoelastic cellular rubber instead of foam gasket tape, and other gasket tapes for its durability and weather stripping capability. This is a quick and easy way to help reduce heating and cooling costs during those cold and hot weather months. Find out more about this product, and how it can help your next project, by reading more below.
| | |
| --- | --- |
| Deflection: Pressure PSF | Average Deflection |
| 100 lbs. | .027 |
| 200 lbs. | .046 |
| 500 lbs. | .090 |
| 1000 lbs. | .131 |
| 2000 lbs. | .174 |
| 4000 lbs. | .221 |
Product Description
Made of an open cellular rubber reinforced with solid rubber particles bonded to cellulose with peel and stick back adhesive.
Perfect for challenges such as Noisy Neighbors (Common Walls)
Bathrooms
Offices
Classrooms
Conference Rooms
Doctors Offices
Home Theaters
Laundry Rooms
Mechanical Rooms
Bedrooms
Government/Law Enforcement Interrogation Rooms
Quiet Rooms
Sound Recording Studios
Yacht/Boat Engine Rooms
Roll size is 24′ × 1-1/2″
Acousti-Gasket acoustic rubber gasket tape is placed between floor joists and sub-floor sheathing on studs or between layers of drywall to greatly reduce sound and vibration transfer. Goes on Quickly – 1200 sq ft area in about 30 minutes.