Print Page
Perforated Vinyl Ceiling Tile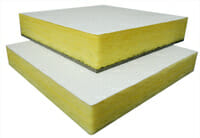 Perforated Vinyl Acoustic Ceiling Panel
The Perforated Vinyl Ceiling Tile has a very high acoustical performance. The tiles are lightweight and sag-free.
Product Features:
High-Performance Acoustics
Light Weight
Product Testing & Information
---
Product Specs
Semi-rigid fiberglass with perforated vinyl facing. Available with mass loaded vinyl barrier backer.
Standard – Nominal 2′×2′, 2′×4′
Available in 4′×4′ and 4′×8′; Custom sizes also available.
Ceiling tile applications where high acoustical performance is required.
0.5 lb/sf for 1″, 1 lb/sf for 2″
Class A Fire Rated per ASTM E84

Easily cleaned with soft brush or vacuum.
Perforated Vinyl Ceiling Tile – Noise Reduction Coefficient
Mount
125Hz
250Hz
500Hz
1KHz
2KHz
4KHz
NRC
1″
E
.69
.95
.85
1.06
1.11
1.08
.95