Foam S.T.O.P.™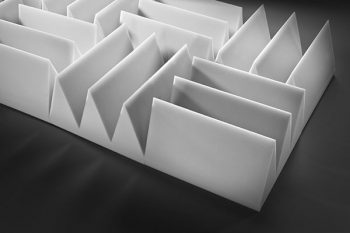 Melamine Foam Super Wedges
Safe, easy-to-install, and high-performance, Foam S.T.O.P. Super Wedges by Acoustical Surfaces have a variety of applications making them ideal for noise reduction on your next job. These wedges are both acoustically and visually pleasing for a professional finished product that looks and sounds great. Some features of the Foam S.T.O.P. Super Wedge are:
Class A Fire Retardant
High Performance Absorption
Fiber Free
Anechoic Foam Wedge Design
Find out more about this product, and how it can help your next project below. To see all Acoustical Surfaces materials and what they can do, continue to explore our website.
Product Testing & Information
---
Product Specs
The super wedge pattern offers excellent absorption and allows you to create many different designs. Install acoustic foam wedge panel vertically, horizontally, diagonally, checkerboard or create your own anechoic chamber foam design.
The acoustic foam wedge panel is for use in all industrial, commercial, audio, OEM and residential markets; Ceilings, walls partitions, sound studios, radio stations, band rooms, gyms, swimming pools, gun ranges, mechanical rooms and enclosures. Thicker anechoic foam wedges are designed for use in anechoic chambers and test cells.
12" x 12" and custom, no edge detail
FOAM Super Wedges
Sound Absorption Coefficient
Finish
Thickness(in.)
125Hz
250Hz
500Hz
1000KHz
2000KHz
4000KHz
SAA
NRC
Mounting Type
White
8.00
0.67
1.17
1.45
1.41
1.42
1.36
1.36
1.35
A
Light Grey
6.00
0.58
1.09
1.34
1.31
1.32
1.34
1.25
1.25
A