Print Page
NOISE S.T.O.P.™ Acoustical Windows for Home Theaters/Cinema Ports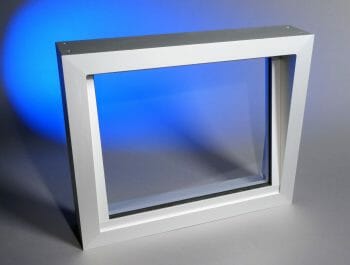 Affordable, Easy To Install Acoustical Windows For Recording Studios or Projection Ports for Movie Theaters
Get acoustical window ports for a home theater, commercial theater, or recording studio with Noise S.T.O.P. Acoustical Windows. These windows are easy to install, and high-performance to ensure a clear visual without letting any sound through. The port is angled to mitigate reflections, making these windows perfect for theater projection ports. Some of the other features of this product include:
4-1/2" Aluminum Frame
Dual Pane Angled Insulated Glass Panels Factory Installed With Dual Isolation Media To Obtain Maximum Sound Attenuation As Well As Unwanted Reflections
Glass Options Offered In Standard Plate, Opti-White & Double Optically Coated High Performance
Elastomeric Seals Isolate Frame From Wall To Eliminate Resonate Noise
Clear or Bronze Anodized Finish
Clear & Simple Installation Instructions & Hardware Included
Stack multiple sound insulation windows next to each other for a larger viewing area.
Need a Larger Window?

Product TAG
---