Print Page
QFA Absorptive Quilted Curtains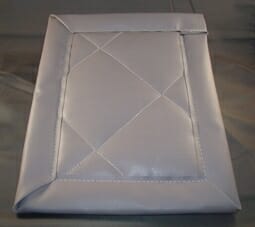 Absorptive Quilted Curtains
For Unusual Conditions
Cost Effective
Water & Chemical Resistant
Exterior Grade Facings Available Here
PLEASE NOTE: These sound blocking blankets are designed and intended to ABSORB SOUND, if you need a product to BLOCK SOUND, Click here.
Product Testing & Information
Product TAG
---
Product Specs
2# PCF density fiberglass core, facings noted below
Effective and durable absorber.
These noise dampening curtains are an effective solution to a wide range of unusual problems. Machinery and work area enclosures.
Standard width of fiberglass is 48″ wide – panels are cut to size as needed.
QFA-1 & QFA-3 – 50 feet
QFA-7 & QFA-10 – 25 feet
QFA-14 & QFA-20 – 25 feet
Class A Fire Rated per ASTM E84
Hook and loop fasteners, grommet hangers, curtain spanport hardware.
1″ Thick: R = 4; 2″ Thick: R = 8
QFA-1 – 1″ Thick Fiberglass – VCFC Front/NPS Back Facings
QFA-3 – 1″ Thick Fiberglass – NPS on Both Sides
QFA-7 – 2″ Thick Fiberglass – VCFC Front/NPS Back Facings
QFA-10 – 2″ Thick Fiberglass – VCFC on Both Sides
QFA-14 – 4″ Thick Fiberglass – VCFC Front/NPS Back Facings
QFA-20 – 4″ Thick Fiberglass – VCFC on Both Sides
Vinyl Coated Fiberglass Cloth (VCFC): Standard

-Breaking Strength (wrap and fill): 150lb./in. and 100lb./in
-Tear Strength (wrap and fill): 8lb. and 7lb. Respectively
-Continuous Service Temperature Limits: -20°F to 180°F
-Moisture Permeability: 0.5 Perms
-Color: Gray, White, Tan, Black (special colors available upon request)
-Other: Passes UL-181 Heat Aging Test

Nonwoven Porous Scrim (NPS): Backing

-Composition: 100% Nonwoven Nylon
-Fabric Weight: 0.7 oz. per Square Yard
-Tear Strength (wrap and fill): 6lb. and 5lb. Respectively
-Temperature Limit: Continuous Exposure to 400°F
Quilted Fiberglass Absorber – Noise Reduction Coefficient – ASTM C423
125Hz
250Hz
500Hz
1KHz
2KHz
4KHz
NRC
QFA-1
0.12
0.47
0.85
0.84
0.64
0.62
0.70
QFA-3
0.28
0.24
0.62
0.91
0.98
1.01
0.70
QFA-7
0.07
0.27
0.96
1.13
1.08
0.99
0.85
QFA-10
0.19
0.99
0.96
0.80
0.57
0.33
0.85
QFA-14
0.21
0.89
1.09
1.17
1.13
1.07
1.05
QFA-20
0.38
0.98
1.10
1.08
0.96
0.52
1.05