Print Page
QFA Absorptive Quilted Curtains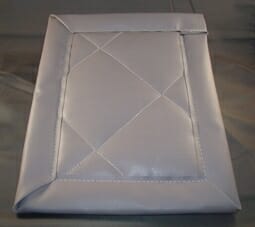 Absorptive Quilted Curtains
For a durable and effective solution for reducing noise in your next project, trust the Absorptive Quilted Curtains by Acoustical Surfaces. These curtains are durable, water and chemical-resistant, and are perfect for absorbing the noise from outdoor installations or in an industrial setting. To see more about this product, and to view product specs, read on below.
For Unusual Conditions
Cost-Effective
Water & Chemical Resistant
Exterior Grade Facings Available Here
PLEASE NOTE: These sound blocking blankets are designed and intended to ABSORB SOUND, if you need a product to BLOCK SOUND, Click here.
Product Testing & Information

Product TAG
---
Product Specs
2# PCF density fiberglass core, facings noted below
Effective and durable absorber.
These noise dampening curtains are an effective solution to a wide range of unusual problems. Machinery and work area enclosures.
Standard width of fiberglass is 48″ wide – panels are cut to size as needed.
QFA-1 & QFA-3 – 50 feet
QFA-7 & QFA-10 – 25 feet
QFA-14 & QFA-20 – 25 feet
Class A Fire Rated per ASTM E84
Hook and loop fasteners, grommet hangers, curtain spanport hardware.
1″ Thick: R = 4; 2″ Thick: R = 8
QFA-1 – 1″ Thick Fiberglass – VCFC Front/NPS Back Facings
QFA-3 – 1″ Thick Fiberglass – NPS on Both Sides
QFA-7 – 2″ Thick Fiberglass – VCFC Front/NPS Back Facings
QFA-10 – 2″ Thick Fiberglass – VCFC on Both Sides
QFA-14 – 4″ Thick Fiberglass – VCFC Front/NPS Back Facings
QFA-20 – 4″ Thick Fiberglass – VCFC on Both Sides
Vinyl Coated Fiberglass Cloth (VCFC): Standard

-Breaking Strength (wrap and fill): 150lb./in. and 100lb./in
-Tear Strength (wrap and fill): 8lb. and 7lb. Respectively
-Continuous Service Temperature Limits: -20°F to 180°F
-Moisture Permeability: 0.5 Perms
-Color: Gray, White, Tan, Black (special colors available upon request)
-Other: Passes UL-181 Heat Aging Test

Nonwoven Porous Scrim (NPS): Backing

-Composition: 100% Nonwoven Nylon
-Fabric Weight: 0.7 oz. per Square Yard
-Tear Strength (wrap and fill): 6lb. and 5lb. Respectively
-Temperature Limit: Continuous Exposure to 400°F
Quilted Fiberglass Absorber – Noise Reduction Coefficient – ASTM C423
125Hz
250Hz
500Hz
1KHz
2KHz
4KHz
NRC
QFA-1
0.12
0.47
0.85
0.84
0.64
0.62
0.70
QFA-3
0.28
0.24
0.62
0.91
0.98
1.01
0.70
QFA-7
0.07
0.27
0.96
1.13
1.08
0.99
0.85
QFA-10
0.19
0.99
0.96
0.80
0.57
0.33
0.85
QFA-14
0.21
0.89
1.09
1.17
1.13
1.07
1.05
QFA-20
0.38
0.98
1.10
1.08
0.96
0.52
1.05