Print Page
Soundproof Floor Underlayment for Floor Impact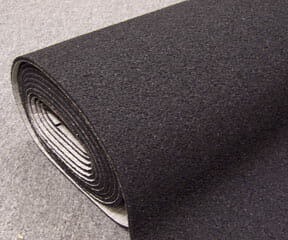 DURACOUSTIC S.T.O.P.™
Floor soundproofing is often overlooked when building a space, and can be some of the most distracting and reflective places on a project. Duracoustic S.T.O.P.™ floor impact noise reduction underlayment is designed to help with that problem. This acoustic underlay is durable and resistant to ripping and bunching, making the installation easy. Additionally, the Duracoustic S.T.O.P.™ material resists mold and mildew, as well as compression, for longer performance and continued acoustical noise reduction year after year. This soundproof floor underlayment additionally is environmentally friendly and is a high-performance acoustic material. Find out more, and see product specs, below.
Cost-Effective
Reduces Impact

Sound

Reduces Airborne Noise

Perfect for

Commercial Soundproofing

For Use with Variety of Floor Finishes
Recycled Materials
Compatible Flooring Types
Hardwood floor

Laminate floor

Carpet

Ceramic Tile

Floating Floors

Product TAG
---
Product Testing & Information
Product Specifications

CSI Specifications

MSDS

Installation Instructions
Features & Benefits
Greatly reduces impact sound; rubber is the best sound absorption material
Increases IIC and STC ratings
Does not compress and therefore holds its acoustical value over time
Easy installation – will not slip or break down during installation
Conceals minor subfloor irregularities
Works extremely well over radiant heated floors
Resists mold, mildew, and fungus growth
Environmentally Friendly
Made with 85% recycled tire rubber and is 100% recyclable
Low VOCs
Can contribute to LEED credits
Duracoustic soundproof underlayment offers a simple but very effective solution for creating soundproof flooring systems that meet stringent sound ratings in multiple-story dwellings, condominiums, hotels, apartments, private homes, and business applications including old building conversions into condominiums.
Duracoustic is a soundproof underlayment made from 85% recycled rubber. This sound deadening acoustic underlay is a reinforced rubber mat with an open cell structure which enhances its sound deadening properties making possible the installation of cost-effective soundproof flooring.
The Duracoustic sound deadening floor underlayment system acts as a decoupler by breaking the sound transmission path through the floor-ceiling assembly and prevents noise flanking room to room. Testing on this soundproof floor underlayment has demonstrated outstanding sound attenuation with a variety of construction assemblies and floor coverings including ceramic tile, laminate flooring, engineered, and soundproofing hardwood floors.
Product Specs
Sound deadening floor underlayment is made from open cellular rubber bonded to fiberglass/cellulose backing scrim.
Soundproofing floor mats conceal floor irregularities. Resists mold, mildew and fungus growth. Hardwood flooring underlay designed for high traffic, long lasting floor impact noise control.
Floor/ceiling applications requiring sound privacy. Apartments, condominiums, schools, offices, hospitals.
54″ × 24′ (108 sq. ft. per roll)
65lb roll (.6 lbs./sq.ft.)
ASTM E-648 Radiant Panel Class 1 (FF1-70 PASS)
DAA5 or Poly 300 Adhesive

Test ResultsClick Any Image for Larger ViewHardwood Floor over Wood AssemblyCeramic Floor over Wood AssemblyCeramic Tile over a 6″ Concrete SlabDownload STC & IIC Test Data Download STC & IIC Test Data Download STC & IIC Test Data STCIICSTCIICSTCIIC645570575552Airborne Sound Transmission Class (STC)Assembly125Hz250Hz500Hz1KHz2KHz4KHzSTCHardwood Floor over Wood Assembly425370839210064Ceramic Floor over Wood Assembly49586781919970Ceramic Tile over a 6″ Concrete Slab37436477869255Impact Insulation Class (IIC)Assembly125Hz250Hz500Hz1KHz2KHz4KHzIICHardwood Floor over Wood Assembly63554730191355Ceramic Floor over Wood Assembly57585448463557Ceramic Tile over a 6″ Concrete Slab66645548383452
Airborne Sound Transmission Class (STC)
Assembly
125Hz
250Hz
500Hz
1KHz
2KHz
4KHz
STC
Hardwood Floor
over Wood Assembly
42
53
70
83
92
100
64
Ceramic Floor
over Wood Assembly
49
58
67
81
91
99
70
Ceramic Tile
over a 6″ Concrete Slab
37
43
64
77
86
92
55
Impact Insulation Class (IIC)
Assembly
125Hz
250Hz
500Hz
1KHz
2KHz
4KHz
IIC
Hardwood Floor
over Wood Assembly
63
55
47
30
19
13
55
Ceramic Floor
over Wood Assembly
57
58
54
48
46
35
57
Ceramic Tile
over a 6″ Concrete Slab
66
64
55
48
38
34
52