Print Page
Isolation Hangers™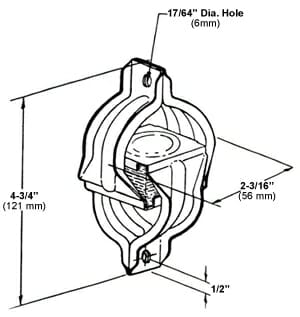 Reduce the noise from vibration in your spaces with Isolation Hangers by Acoustical Surfaces. These hangers are durable and have a load capacity of up to 200 pounds. These isolation hangers can be used when hanging solutions from ceilings or floors and can help you soundproof your next project. Find out more about this product by reading below.
Features: 
Permanently Resilient Fiber Glass Isolator Pad
Constant Natural Frequency in Wide Load Range
Load Capacities 20 lbs. to 200 lbs. (9 kg to 91 kg)
500% Overload Fail-Safe Assembly
Product Testing & Information

Product TAG
---
Specifications:
Floor and ceiling isolation hangers shall consist of a fiberglass isolator encased in an anti-short circuit reinforced steel bracket which will accommodate up to #8 suspension wire or a 1/4″ (6.35 mm) bolt or screw.

The fiberglass ceiling isolation hanger shall be 1″ (25 mm) thick, precompressed, molded fiberglass composed of fiberglass produced by a multiple flame attenuation process which generates nominal fiber diameters not to exceed 0.00022″ (5.6 microns) and shall have been stabilized by precompression ten (10) times to three (3) times the maximum rated load of the material used.

The hanger assembly shall be zinc-plated reinforced steel and shall carry a five (5) times maximum rated load overload without failure. Hangers shall be Model AF.
Isolation Hangers
Hanger
Load Range
Maximum Deflection
AF-100
20-100 lbs
0.27″
9-46 kg
6 mm
AF-200
50-200 lbs
0.18″
23-91 kg
4 mm