Print Page
Quilted Curtain S.T.O.P.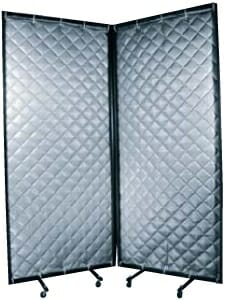 Portable Acoustical Enclosures and Screens
For Unusual Conditions
Cost Effective
Water & Chemical Resistant
Exterior Applications
Product Testing & Information
Product TAG
---
Product Specs
Foam or fiberglass core, faced with quilted aluminized fabric.
Effective and durable absorber with mass loaded vinyl barrier option.
These portable soundproof walls are an effective solution to a wide range of unusual problems. The sound screen curtains can be used for machinery and work area enclosures. Industrial absorbers, portable screens.
BSC-25 Curtain – Quilting on Both Sides – Standard: 48″ Wide and Lengths up to 25′

BBC-13 Curtain – Quilting on One Side – Standard: 54″ Wide and Lengths up to 25′

Custom sizes also available.
Silver (Other colors available upon request)
ASTM E84, Class A. Flame Spread: 23; Smoke Developed: 30
Hook and loop fasteners, grommet hangers, curtain spanport hardware.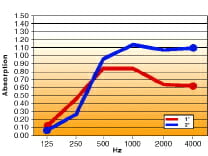 CURTAIN S.T.O.P. – Sound Transmission Loss – ASTM E90
Frequency
125Hz
250Hz
500Hz
1KHz
2KHz
4KHz
STC
1″ Thick w/ Barrier
11
16
24
30
35
35
27
2″ Thick w/ Barrier
13
20
29
40
50
55
32
CURTAIN S.T.O.P. – Sound Transmission Loss – ASTM C423
Frequency
125Hz
250Hz
500Hz
1KHz
2KHz
4KHz
NRC
1″ Thick w/ Barrier
0.12
0.47
0.85
0.84
0.64
0.62
0.70
2″ Thick w/ Barrier
0.19
0.99
0.96
0.80
0.57
0.33
0.85
1″ Thick w/o Barrier
0.12
0.47
0.85
0.84
0.64
0.62
0.70
2″ Thick w/o Barrier
0.19
0.99
0.96
0.80
0.57
0.33
0.85