Print Page
ACOUSTI-CURTAIN™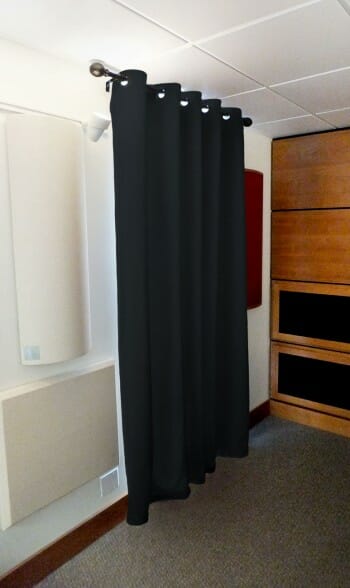 Sound Absorbing Drapery
High-Quality Construction
PFR or IFR Face Layer & Lining Fabrics
Excellent Sound Absorption
Wool Core – Absorbs, Filters & Breaks Down Harmful VOC's From The Air
Reflects Thermal Energy
Custom Designed For Any Application
Variety of Fabric Options
The Acousti-Curtain is a revolutionary new product tailored to give superior sound reduction and noise control features. Sound absorbing drapery primarily designed to absorb more external noise and sound wave vibrations than standard decorative curtains. These noise reduction curtains are made with sound-absorbing material and are ideally used where control of acoustic reflection off of glass and ambient light control is required. These acoustical curtains feature a core material of naturally fire-resistant wool fabric that is sandwiched between a decorative fabric and a blackout liner. Soundproof curtains, which also come in the form of stage curtains or industrial curtain walls, are effective sound barrier walls against loud noise or outside noise.
These noise-reducing curtains' wool core material has also been shown to continuously filter harmful VOC (Volatile Organic Compounds) from the air. The best soundproof curtains will not only control unwanted noise pollution but also reflect thermal energy and block light when drawn across a window or doorway. The soundproofing curtain is custom designed to fit and match your interior design specifications. Please call for a quote.
Note: The Acousti-Curtain sound absorbing fabric curtain does not block sound transmission and should not be used as a noise barrier.
Product Testing & Information

Product TAG
---
Applications:
Home Theaters and Other Residential Spaces
Commercial Spaces
Restaurants
Schools
Churches
Retail Spaces
Office Spaces
Colors:
Wide Variety of Face Layer & Lining Fabrics Available with Acoustic Curtains (See Below)
Sizes & Options:
Custom Designed for Your Application. Heights up to 180"; Custom Widths (Vertical Seams Every 60" Due to Fabric Dimensions
Standard Drapes Feature Large Grommets – 1-5/8″ Diameter  – For Hanging
Other Mounting Options May Be Available Upon Request
Header Styles
Click on Image for Larger View of Sound Deadening Curtains
Sound Absorption of Sound Deadening Drapes
125Hz
250Hz
500Hz
1KHz
2.5KHz
4KHz
NRC
.09
.28
.58
.70
.76
.83
.55
---