How to Soundproof Music Room Spaces in Schools
Music is an invaluable part of a well-rounded education. In fact, schools with music programs boast higher graduation rates than those without them.1 Additionally, students who take music classes earn higher grade point averages than their peers.1
Since music programs can have such a positive impact on your student body, you may be eager to set up music rooms in your educational facility. If so, you might be wondering how you can properly contain your music room's sound.
In this article, we'll explain how to soundproof music rooms in educational facilities. We'll also provide a list of the most important acoustic material you'll need for the project.
How to Construct a Soundproof and Sound Absorbent Music Room
Educational facilities are often constructed using cement brick walls. Unfortunately, without the right soundproofing treatments, these rooms can leak loud sounds out into adjacent rooms and hallways.
It's also important to note that cement doesn't absorb any sound. As a result, your students' band or orchestra practice may produce distracting reverberations within their practice space, making it harder for them to hear their parts within the group.
The good news? You can improve your music room's acoustics by following these steps:
Step #1: Install Sound Absorbers Throughout the Music Room
As their name suggests, sound absorbers absorb sound waves. When you have a few sound absorber panels in a music room or recording studio, the sounds won't ping around as much, reducing the resulting reverb and echoes.
You can install sound absorbers in strategic locations throughout your music room. Some of the best spots to place them include:
The corners of each wall
The corners of the ceiling
The area of the ceiling above the place in the room where the sound will be produced
Installing sound absorbers is a relatively straightforward process. You can learn how to do it by watching this Fabric-Wrapped Panel Installation tutorial.
Step #2: Install Sound Diffusers in Key Locations
After setting up your absorbers, you may want to install a few diffuser panels too. While absorbers soak up sound, diffusers disperse every sound wave around the room. In turn, they can maintain the rooms' aliveness and ambiance while mitigating unwanted echo and reverb.
Diffuser panels should be positioned at the first reflection points within your music room. First reflection points are the places on your music room's walls and ceilings where sound bounces to first. These points typically have the most significant effect on the sound quality of a room.
You can locate your room's first reflection points by following this video tutorial. Once you've marked these points on the walls with painters' tape, you can install your diffusers and test them out to optimize your music room's sound quality.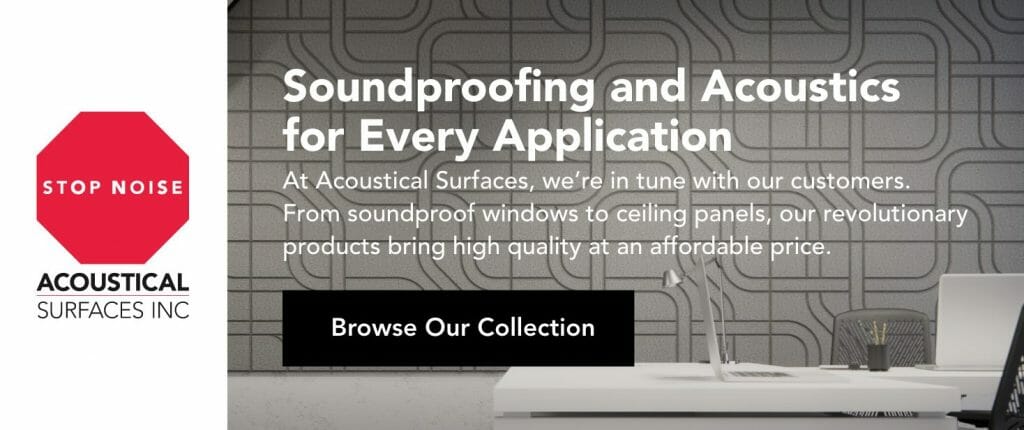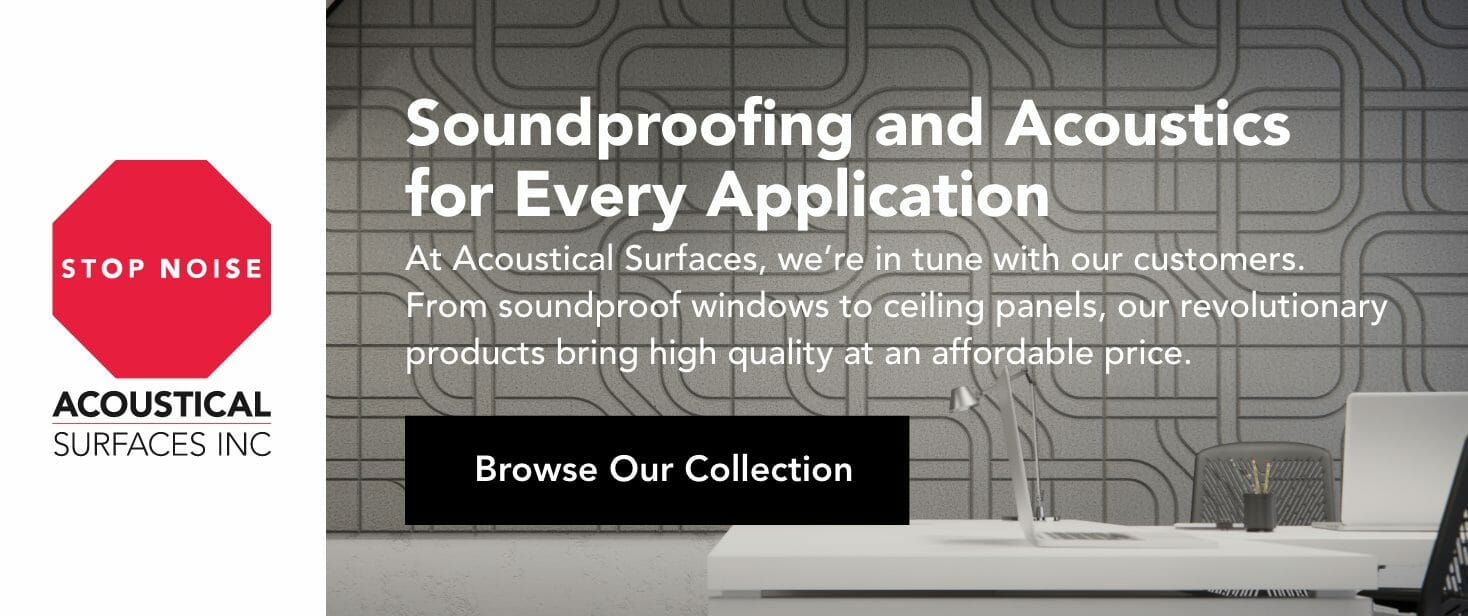 Step #3: Install a Soundproof Door
So far, we've discussed how to optimize the sound quality inside your music studio. But what about keeping this sound from distracting students outside of the room who are attending other classes?
To prevent sound leakage outside of your music rooms, you should invest in a soundproof door. Soundproof doors are heavy and solid throughout. Their dense mass can block a lot of sound without any additional soundproofing treatment.
Step #4: Seal Door Gaps
If you want to take your recording studio soundproofing and sound absorbing to the next level, you may also want to consider sealing gaps around your door using a soundproof door seal kit.
These door-sealing kits can help you fill in any gaps on the top, bottom, or sides of your door. You'll know that you've installed them correctly when you can't see any light shine through the gaps surrounding your door when it's closed.
Step #5: Take Into Account Your HVAC Ducts
If your music room doesn't share HVAC ducts with adjacent rooms, you can simply extend your door jamb and install a soundproof door. After that, you can install RSIC-1 sound isolation clips to put some distance between the layers of drywall in your music room. You should install ⅝ inch drywalls and apply Green Glue between each layer.
If your music room does share HVAC ducts, you can skip this step.
Soundproofing a Room For Music: 4 Materials You'll Need
Now that you know the basic steps for how to soundproof a room for music, let's review some of the best soundproofing and sound absorbing materials you can use to get the job done.
#1 Wall and Ceiling Absorber Panels
First, you should select sound absorber panels that suit your music room's size and budget. Here at Acoustical Surfaces Inc. (ASI), we offer the following options:
Fabric-wrapped panels – Fabric-wrapped absorber panels can reduce the amount of echo or reverb within your music studio. They come in a variety of sizes and colors, enabling you to design your music room to match the rest of your school's aesthetic.At ASI, our Noise S.T.O.P. Fabrisorb™ Fabric Wall Panels are exceptional for sound absorption. They come in over 100 different colors. They also come in several widths, including 1-inch, 1⅛-inch, 2-inch, and 2⅛-inch. For school music rooms, we typically recommend the 2-inch panels.
Polyester panels – Another paneling option you can consider are polyester acoustic ceiling and wall panels. These acoustic panels can tame echo and reverberation, enabling your students to enjoy better sound quality as they practice. They also boast a lower price point than fabric-wrapped wall panels.Our Poly Max panels are made of 100% polyester. In turn, they're non-toxic, non-allergenic, fungal-resistant, and formaldehyde-free. As with our fabric-wrapped panels, you can customize these panels' color, size, and thickness.Poly Max panels can come in ½-inch, 1-inch, and 2-inch widths. While our standard sizing options are 24 by 48 inches and 48 by 96 inches, you can customize your panels to be any size up to 48 by 96 inches.
BAC panels – If you have to stick to a tight budget to make your school's music room a reality, bonded acoustical cotton (BAC) ceiling and wall panels are the most cost-effective type of sound absorber.Our Echo Eliminator™ panels can help you control noise in any type of space, including school music rooms. They can be installed as acoustical wall panels or used as hanging baffles.These panels are made of recycled BAC. In turn, they may be eligible for the U.S. Green Building Council's LEED™ credits.2 They're also Class A fire-rated, formaldehyde-free, fungi-, mold-, and mildew-resistant, and 100% recyclable.
CFAB cellulose panels – Finally, cellulose-based acoustical and thermal panels are great sound absorbing materials that can help you control the sound in your music room and mitigate airborne sound transmission. Due to their density, these panels boast impressive Noise Reduction Coefficient (NCR) ratings. While they don't block sound entirely, they are very effective for sound absorbing, reducing echo and reverberation, and thermal insulation.
At ASI, our cellulose-based material is quite innovative for the industry. It's made of 65% to 75% recycled material. As an environmentally-responsible alternative to traditional fiberglass panels, our CFAB cellulose panels can help you obtain LEED credits.
Compared to alternative spray foam insulation options, our CFAB cellulose panels are much easier to install. Plus, you can remove them with ease if need be. The same can't be said for spray foam insulation materials.
#2 Diffuser Panels
Next, you'll need to purchase a few Curve diffusor panels. Acoustical Curve Diffusors panels can help you reduce the echo in your music room and optimize your sound quality. These acoustic panels can come in barrel shapes and pyramidal shapes, as well as a variety of fabric colors and patterns. Additionally, they are effective for diffusing mid-high frequencies and controlling low frequency.
#3 Soundproof Door
At ASI, we offer affordable Soundproof Interior Doors with Sound Transmission Class (STC) values of up to 56. Our doors are made of durable oak wood and can be custom finished to suit your music room's interior design and door frame size.
#4 Soundproof Door Kit
Lastly, you can close any gaps around your music room door using our Adjustable Acoustic Door Seals. These door seals come in standard and heavy-duty versions. You can select from the following color options:
The Benefits of Soundproof Music Rooms in Schools
By outfitting your music room with the items we mentioned above, you can give all of your students the most enriching classroom experience possible. Your student musicians can hone their skills with exceptional sound quality. Learning how to block sound between rooms also means students in adjacent classrooms can stay focused on their lesson plans, rather than getting distracted by the sounds of other students practicing.
Soundproof Your School's Music Rooms With Acoustical Surfaces
If you need more guidance on music room soundproofing, ASI can help. With our extensive acoustical expertise, we can pinpoint the right solutions for your music room's unique soundproofing needs with ease. We can also help you select the right soundproofing options for your budget.
Want to get started on your music room soundproofing project? Reach out to the sound experts at Acoustical Surfaces today.
And if you're interested in learning more about how to improve your acoustics, read on about the different sound absorbent materials.
Sources:
Children's Music Workshop. Music Education Statistics.https://www.childrensmusicworkshop.com/advocacy/factsandstatistics/
U.S. Green Building Council. LEED rating system.https://www.usgbc.org/leed