Soundproofing vs sound absorbing – explaining the difference
When someone has a noise problem and doesn't know what to do, who to contact, or how to begin, they often search the internet for terms like "soundproofing" and "noise control." We have been fielding calls from people looking to solve sound problems for years. These callers often explain they want the sound being made within the room to stay in the room or to keep sound out of their space. Many aren't familiar with how to block sound between rooms or what soundproofing materials are needed for their space. We start with a conversation about the room itself, the use of the room, and the type of unwanted noise we are dealing with in each particular situation.
(Download your free guide: Solutions to Common Noise Problems)
It is common for people to ask for pricing on soundproofing foam,sound-absorbing foam, soundproofing insulation, sound absorbing panels, or soundproofing panels. They are sure that foam is the ticket because they have seen "egg crate" foam or other similar products as finish wall treatments in recording studios, on TV shows, and in movies – and these types of rooms are really quiet or legitimately soundproof. So, it stands to reason that panels block sound, right? Well, not exactly… This misconception is incredibly common – so if you are reading this and thinking to yourself, "So, does sound-absorbing foam work? Isn't foam used for soundproofing a room?" Unfortunately not. Foam doesn't stop a sound, it absorbs the sound vibration or reduces the echo within the room. Don't feel bad. Plenty of people thought the same thing. Luckily, we are here to save the day. Soundproofing vs sound absorbing – what is the difference?
Soundproofing vs sound-absorbing
There are two sides to the acoustical coin, if you will. Some products that absorb echo within a room, while other products block or stop/reduce sound transmission. (There are some panels that will do a bit of both. These are generally called composites, but let's keep it simple for now.) Echo absorbing materials are used to improve the sound quality inside the room in which they are installed. They are usually installed on the walls or ceiling as a finished surface in the room. Products that are used to block sound are used INSIDE of the wall or ceiling – as part of the construction material. They can be dense, heavy materials or materials that will decouple the wall assembly – and due to their density, often reflect the sound back into the room rather than the sound penetrating through to the other side. Absorbing the echo in a room and blocking or reducing sound are done in two very different ways and with different products and approaches.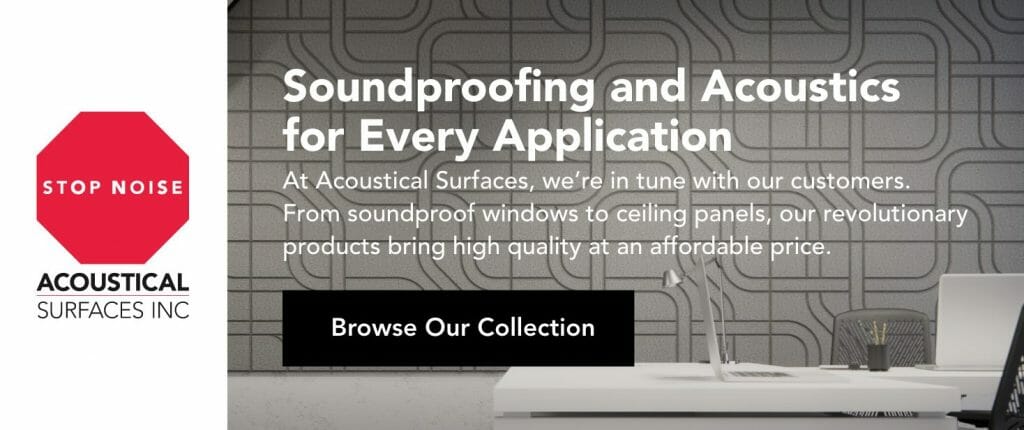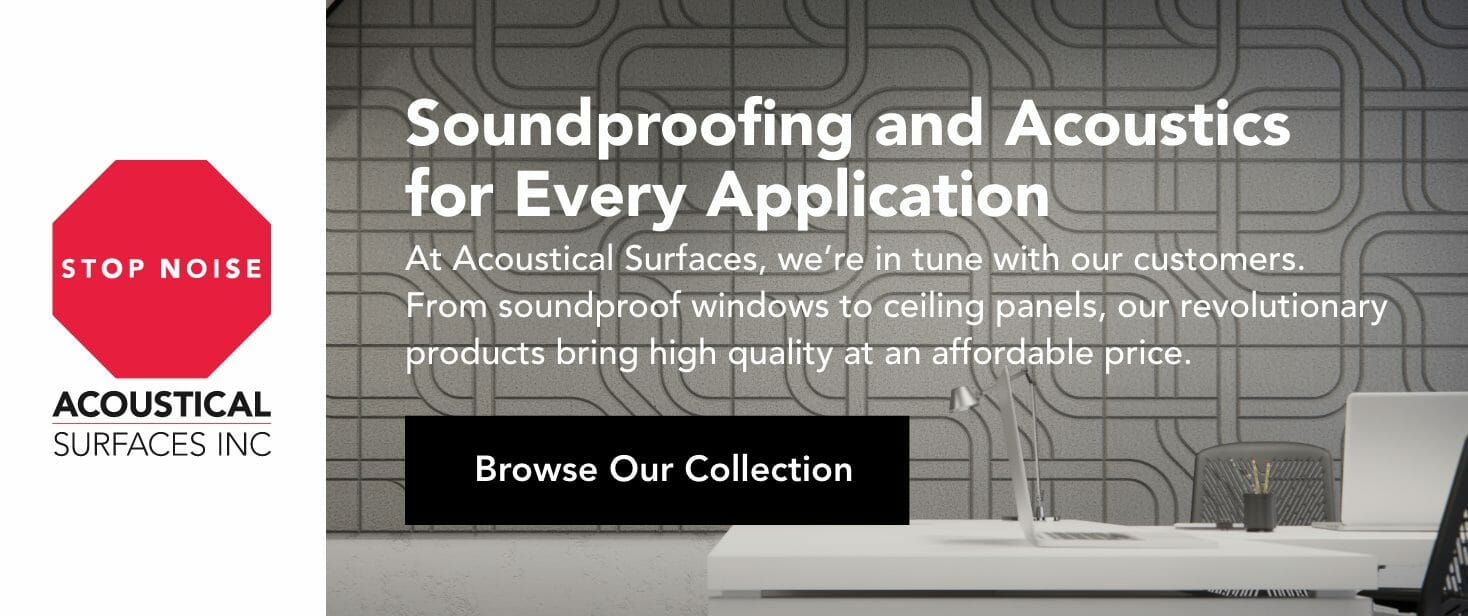 You Can't Build an Aquarium With Sponges
Here is a simple analogy that helps people understand the physics of sound and how it works. Imagine you are building an aquarium to hold water. Would you use glass panels or sponges for the walls of the tank? This is clearly a ridiculous question, but it paints a picture of simple physics that applies here. Sound acts very similar to water when you are trying to control it. If you used a soft material like a sponge as the interior wall, it would absorb the water but quickly let all of it seep through to the other side. Glass and good seals block the water and keep it in place. Acoustical materials made from soft, squishy things like sponges are good sound absorbent materials. A dense, heavy, air-tight material is better to use as sound proofing material because it will block. Those are the basics right there. Now you can impress your friends with your newfound knowledge. Let's dive more into the specifics of soundproofing vs sound-absorbing.

Sound Absorbing Options
In fact, some people "soundproof" a room on the cheap side, by hanging moving blankets on the wall, acting as a soundproof curtain, to create a DIY sound-absorbing panel. While sound absorbing curtains could be a great solution, if you are interested in a more professional or finished look as well as performance, there are fantastic sound-absorbing products on the market.
Wallmate stretch wall system – professional-looking, high tension, stretchable fabric acoustical wall system with nearly unlimited panel sizes.
Sound Blocking Options
For years, I've used mental images and analogies to help people realize they already understand the physics of sound – they just don't know it yet. Everything makes more sense when they (or you) can visualize and relate to an idea you already know. So, here is another one. Imagine you are finishing a room in your basement. You have installed the studs that will frame the wall, and you are to the point where you are ready for sheetrock. Instead of using sheetrock, you decide to put 2″ thick "egg crate" foam onto the studs. Keep in mind this foam has almost no mass or density. It's light and soft, and it is mostly air. After you've installed this sound absorption material, you tell your friend to go stand on the opposite side of the wall and begin talking. Regardless of the type or thickness of foam used, you will be able to clearly hear your friend as if there were no wall in front of you. Why? Sound travels through the air. Because the foam is mostly air (it's light – weighing very little), sound travels through it – just like water traveling through the sponge.
What materials can or do block sound? Products designed to block sound from entering or leaving a space are almost always found inside the wall construction or are part of the wall itself. There are three basic ways to block sound: Add/increase the wall's mass and density (weight) to make it heavier, decouple the wall assembly (where one side of the wall doesn't touch the other),or dampen the vibration energy of the wall.
Remember that last analogy? The one in your basement? Let's go back there. Now, instead of foam, this time, you decide it would be better to use 9 layers of 5/8″ sheetrock on either side of the wall. Nine layers on the inside, nine layers on the outside. You send your friend to the other side again and have them start talking. I would be willing to bet you cannot hear much of what they are saying because you have added so much mass to the wall. If you are looking at adding some sound-blocking materials to your room, here are a few products to consider:
Green Glue vibration dampening compound – sandwich this between two layers of sheetrock to greatly dampen the vibration energy through the wall.
RSIC-1 Clips (resilient sound isolation clips) – prevent sound from noisy neighbors from transmitting through your walls or floor/ceiling assemblies.
Mass Loaded Vinyl Barrier (MLVB) – an acoustical barrier made from high-density limp mass barrier material to support noise reduction and transmission.
Soundbreak XP soundproof sheetrock – sound-deadening drywall used in the construction of high STC (Sound Transmission Class) wall assemblies.
Echo…Echo……Echo………Echo………..Echo

You guessed it, I've got another analogy! Let's head to the gym. It's currently under construction because they are adding a few new racquetball courts. Let's check them out. The room is made of concrete, and because it's a regulation-size racquetball court, it measures 20′ wide x 40′ long x 20′ tall. The walls of this room are two feet thick. You clap your hands in the room, and the echo seems to go on forever. Let's have some fun in here. You have, in your hands, 100 new super bouncy balls of varying colors. (You must have really big hands.) You throw them in every direction, and they keep bouncing and bouncing everywhere through the room. After a few minutes, they eventually stop bouncing ,and hopefully, you remembered to wear your helmet, or you may be dealing with a big headache. Now imagine that you brought some 2″ thick foam with you. You line the walls, ceiling, and floor. After that is done, you throw the same 100 super bouncy balls. This time when they hit the wall, ceiling, and floor, they don't bounce. The energy from the ball was absorbed into the room, more specifically, the foam. A sound wave inside this room is just like that super bouncy ball. It will reflect or bounce off any hard surface but will be absorbed by a soft surface.
Now what?
If you made it this far, I congratulate you for sticking with me through my fairly crude examples. My intent was to help paint a picture to clarify the general differences between absorbing and blocking sound (soundproofing). I'm sure there are many people out there who are excessively smarter than I am who are shaking their heads because I did not touch on the technical side of things – explaining wavelength and frequency, etc. I don't care. I am trying to simplify things to give those non-technical individuals a basis to begin educating themselves on their excessive noise issues.
Of course, you aren't officially an expert in acoustics now. This is a start. For your next step, I would recommend finding an expert or at least someone who knows the specific products that you can use for your specific situation. Talking to an expert will help you better understand the way sound moves in your room. He or she will also know enough about the products to point you in the right direction. So, before talking with that person, I would have these questions answered:
Are you looking to block sound or absorb echo? Now when you understand the soundproofing vs sound-absorbing difference…
What are the dimensions of the hard surfaces in your room?
What is the room used for, what types of sound are you looking to block/absorb? (a high pitch-squeaky sound, voices, music, children, low frequency-bass type sound, all of the above…)
What are your ideas as to the best way to treat the room, where to put the product, or how to approach the situation?
What type of aesthetics, finish or colors are you looking for?
Are aesthetics important, or do we need to do this on a tight budget?
I know this is not an all-encompassing list, so I will not feel bad when you leave me a comment that I forgot something. In fact, I encourage it. Knowing the answers to all these questions will give the expert everything they need to diagnose the noise problem and offer useful solutions. No matter what size and shape your room is, there is a perfect combination of sound-absorbing and/or sound-blocking materials to meet your needs for the space. Whether you need sound-absorbing panels, sound isolation clips, or a combination of both types of products, working with an expert will help you make the right choice the first time.
If you're looking for more guidance on soundproofing and soundabsorbing in an attempt to improve your room acoustics, contact our team at Acoustical Surfaces today! From sound control in buildings to learning how to deal with construction noise, our experts can provide you with unique and tailored solutions.