Computer Lab Acoustics
S.H. (an IT instructor) writes:
Our computer lab is much too loud! It seems like the noise of students talking is amplified throughout the room making it very difficult to work. We have tile flooring throughout the lab and rolling chairs which add to the noise.
Computer lab acoustics are always interesting, and almost always a problem. My first semester of college was back when computers were new, and kids carried around 5 1/2″ floppy disks that could hold about five words each. The school that I attended converted an old gymnasium into a computer lab, and named it "The Bee Hive" because of the constant hum and buzz of the old machines. You could almost feel the energy of the noise when you entered the building. Since then, computer labs are a little different, but still amazingly the same.
If I picture the computer lab mentioned above, I picture a typical classroom, converted into a lab. This room has linoleum tile floor, white painted sheet rock walls and either a standard drop ceiling or a sheet rock ceiling with suspended fluorescent lights. From an acoustical standpoint, computer labs are a unique beast. Not only do you have the same normal noise sources as other classrooms (kids, chairs, antsy feet, lights, HVAC, and general school ambient noises) you also have 10-30 computer towers – each one with it's on cooling fan(s), monitors, printers, keys clicking, mouses clicking, chairs rolling around, and maybe a server rack or two. A computer lab probably has double the noise sources as a non IT classroom.
Computer labs also have another thing to consider – the amount of static electricity generated by all of the machines. These machines need to remain as dust or particle free as possibly simply because they don't run correctly when they are filled with dust or other atmospheric junk. Ok, we've established that a computer lab is a noisy, reverberant space that needs to remain as dust free as possible, so now I will explain how to fix the problem, and the solution is going to be easier than you probably expected.
We sell an acoustical wall panel called Sound Silencer P.E.P.P. (Porous Expanded Polypropylene) which comes in a one-inch as well as a two-inch thickness. These panels are available in either Charcoal or White and are generally sold in the 2′ x 4′ size. They mount directly to the walls with a tube-type adhesive and a spray adhesive. They are generally installed on the walls around the room – either spacing the panels around the room for even coverage, or installed in a group with one panel touching the one next to it. The 1″ panel has an NRC (Noise Reduction Coefficient) of .45 and the 2″ panel has an NRC of .70. The higher the number, the better. In simple terms, the 1″ panel absorbs 45% of the sound that hits it, and the 2″ panel absorbs 70%.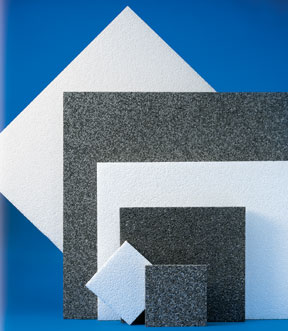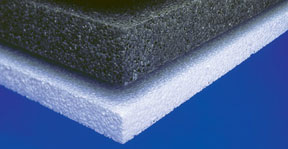 CHARCOAL:

WHITE:

There are three main advantages to this panel. (If you are skimming, read this)
Abuse resistant
Tack-able
Does not hold an electromagnetic charge
First, the panel is incredibly abuse resistant. It can be bumped into, struck with flying objects like keyboards or a wireless mouse and it will not be damaged. It is, however, quite an interesting surface which will generally attract attention – and kids will want to pick the beads out with a pen or pencil. For this reason, it is usually installed as high as possible on the walls, or framed by an aluminum channel – supplied by others. Second, the panel is tack-able and can be used like a cork-board. Third, the panel does not hold an electromagnetic charge. All good things.
How many panels do I need?
Good question. To determine the number of 2′ x 4′ panels that you need to take the edge off of, or tone down the amount of energy in the room, follow the equation below.
Equation
Step 1: Determine the cubic volume of the room. (Height x Width x Depth)
Step 2: Multiply the cubic volume by 4% (.04)
Step 3: Divide that number by 8.
Step 4: order that number of panels.
Example Room
10′ height x 30′ wide x 20′ deep = 6,000 cubic feet
6,000 x .04 = 240
240/8 = 30
A room of this size needs 30 (2′ x 4′) panels
Where you place the panels is ultimately up to you. Most commonly, the panels are placed around the room to create an even or balanced feeling. Once in a while, the panels are grouped together on one open wall and used as a tack-board. Covering the panels with paper will moderately affect their ability to absorb sound, but this depends on the thickens and quantity of the paper on the surface. Most educational institutions have their in-house handy-people install the panels.
They panels usually sell for $5.50 per square foot (for the 1″ thickness) and $7.50 per square foot (for the 2″ thickness). This price does not include adhesive or shipping.