What Is Tectum? Your 101 Guide
Tectum Inc. was founded in 1949 by two engineers hailing from Owens Corning—one of the world's largest manufacturers of roofing, insulation, and composites materials. Their goal was clear-cut: to create high-quality insulation panels that could enhance the walls, floors, and roofs of buildings everywhere.
The fruit of their labor was the tectum panel. Crafted from an amalgamation of diverse materials, these groundbreaking panels offer exceptional sound absorption, abuse resistance, and insulation performance. Seven decades later, tectum remains one of the most popular insulators for noisy spaces like restaurants, gyms, schools, and more.
But what is tectum exactly? And how does it compare to modern wood wool products?
What Is Tectum
Tectum is the Latin word for "roof." The company's founders originally intended to use their innovative panels primarily as roof supports and insulators. However, builders were so impressed by the panels' inherent properties that they began incorporating them into the construction of walls and floors as well.
While tectum shares some similar properties to wood wool insulators, the two materials are not one-to-one analogs. A tectum product isn't wood wool, and vice versa.
What Is Tectum Made of?
Tectum panels are aspen wood fibers—also called excelsior—bonded with an exclusive inorganic hydraulic cement. Every panel, regardless of industrial application, is made using the same material mix.1 The only change from one batch to another is:
Sheet thickness – Panels can range from 1 to 3 inches in thickness
Sheet cuts – Panels can be cut into various sizes and shapes to accommodate specific project requirements.
The manufacturing process starts by bonding the wood fibers with the cement binder. From there, these types of sound absorbing panels are formed by exerting continuous heat and pressure. Then, once they're compressed and cut to the desired thickness and shape, the sheets are baked in an oven to cure the resin.
The resulting product is a high-quality, lightweight acoustical solution that provides excellent sound absorption, abuse resistance, insulation, and a textured interior finish.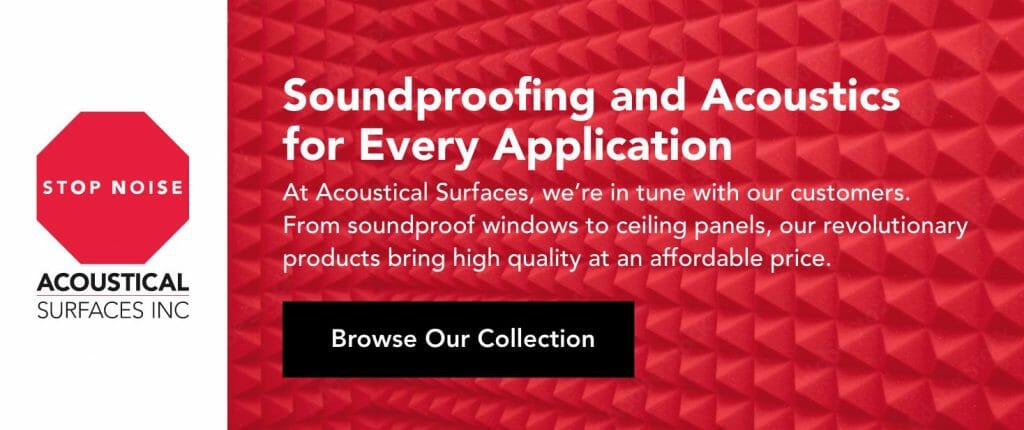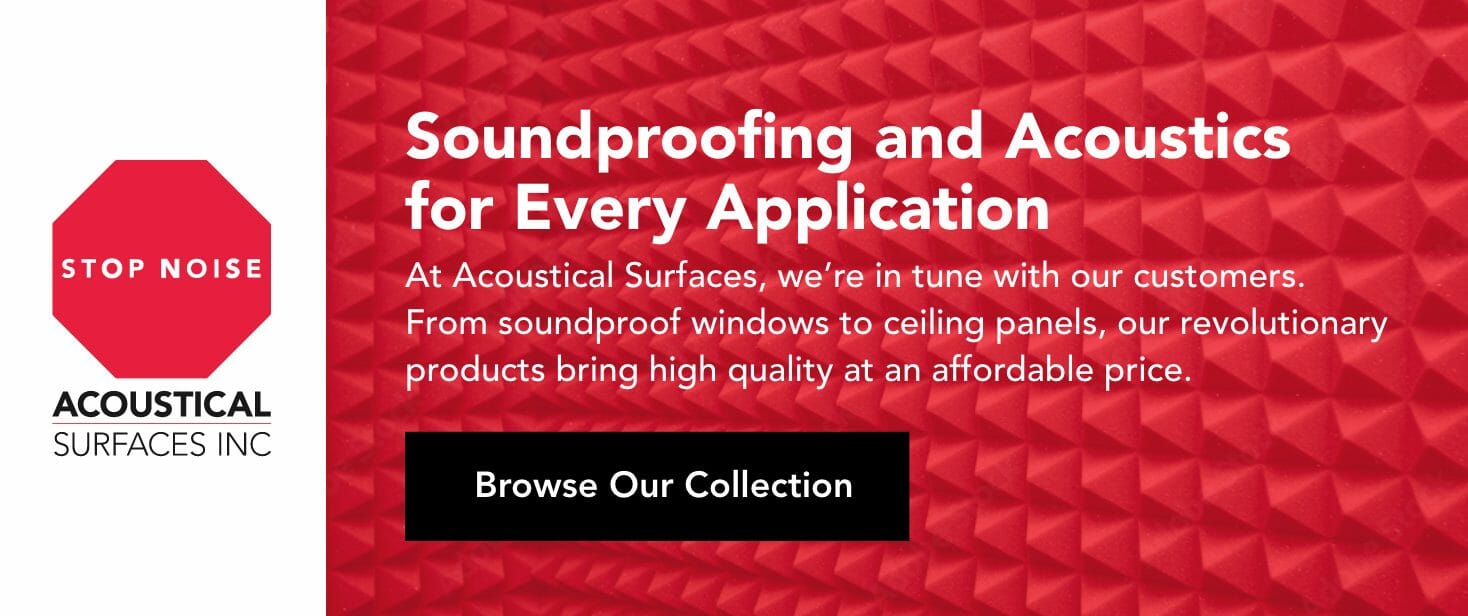 Advantages of Tectum
Tectum provides myriad benefits for both commercial and residential applications, including:
Excellent sound absorption – Tectum panels are known for their exceptional sound absorption properties. Like hanging a blanket on a wall, these panels act as a sound absorbing curtain, effectively reducing noise levels and echo. This makes them ideal for use in crowded and noisy public spaces like theaters, auditoriums, gyms, government office buildings, and classrooms; in other words, any place where acoustics matter.
Decorative, textured interior finish – Tectum panels have a unique, textured surface that adds both a visual and tactile appeal as an interior surface finish to enhance the overall design and ambiance of any space. Additionally, the tectum acoustic panel can be customized to match any space—coming in unique shapes, designs and patterns.
Insulation – Tectum provides both thermal and acoustic insulation, which results in reduced heating and cooling costs while also providing a more comfortable and quiet environment for occupants.
Wear and tear resistance – Tectum panels are lightweight yet highly durable and resistant to impact and wear without losing their structural integrity. This makes them ideal for high-traffic areas.
Lightweight – Tectum is easy to transport, handle, and install.
Compatible with other materials – Tectum panels can be used with an array of construction materials and surfaces including metal, asphalt, and single-ply membranes, making them easy to integrate into a variety of construction designs and methods.
Environmentally friendly – Unlike many other types of insulation, a tectum product has never contained asbestos, urea formaldehyde, or chlorofluorocarbons—all of which can be harmful to both people and the environment. They're safe for use in all applications.
Disadvantages of Tectum
Despite its many advantages, tectum also has some drawbacks that must be considered before you decide to use it in your next project, including:
Cost – Compared to many other traditional insulating materials, tectum panels tend to be more expensive, which could be a deterrent if your project operates on a tight budget.
Installation difficulty – Tectum panels typically will require a knowledgeable professional to ensure their proper installation. Due to the complexity involved, attempting a do-it-yourself (DIY) approach can lead to various issues and suboptimal performance. Consequently, relying on professional installers is strongly recommended, which can increase a project's labor costs and timelines.
Limitations in high-humidity applications – The presence of excessive moisture—as might occur at a pool, sauna, or ice rink—can impact the performance and longevity of the insulation and acoustic panel. As a result, for these types of projects, special technical assistance will likely be required.
Types of Tectum Products
Over the years, there have been an array of tectum-based products that have come to market, including:
Tectum Blades and Baffles
Tectum Clouds
Tectum Shapes for Acoustical Clouds
Tectum Direct-Attached Ceiling
Tectum Lay-In
Tectum Tegular
Tectum Direct-Attach Walls
Tectum Finale Wall Panels
Tectum Finale PB Wall Panels
Tectum Fabric Walls
Tectum I
Tectum III & IIIP
Tectum IIIW
Tectum E & E-N
Tectum V
What Is Wood Wool?
As mentioned, tectum insulation panels and wood wool panels share a common component, which is excelsior. Excelsior refers to the slivers or strands of wood derived from softwood species like spruce or pine.
In the production process, both tectum and wood wool panels start with the softwood being shaved or cut into long, thin strands. These strands are the key building blocks for the panels' structure and properties. However, the bonding process differs between the two.
For tectum panels, their unique composition includes a proprietary cement binder, which serves as the core bonding agent. Wood fiber insulation panels, on the other hand, typically use glue or resin to keep the strands in place and provide structural integrity to the insulation panel; though the specific adhesive used will vary depending on the manufacturer or product.
Regardless, common wood wool uses include wall cladding, ceiling panels, acoustic panels, insulation panels, and loose-fill packaging.
Envirocoustic—The Superior Wood-Wool Insulator
The composition of tectum panels has barely changed, if at all, over the last 70 years. The company still uses the same formulation and basic processes to create their wood wool products.
However, advancements in technology and scientific understanding have led to the emergence of newer, superior wood-wool insulation and acoustical solution: Envirocoustic panels.
Enviorcousitc is the next generation of wood-wool insulation. It incorporates traditional design with modern knowledge, technology, and manufacturing techniques. But where it truly shines in comparison to tectum or other wood-wool type products is the special emphasis placed on acoustic performance and eco-friendliness.
Acoustic Performance
Envirocoustic panels are designed on the foundations of modern insights into sound absorption, diffusion, and control. This scientific understanding informs the design and composition of these insulating panels, which in turn, reduces echo and reverberation of any space.
In acoustical sound absorption tests, these panels performed as follows:
Type
Application
Thickness
Mounting
Acoustical

Backer

Testing

Std

Results
Absorption
Ceiling or Wall
1″
A
No Backer
ASTM C423
NRC – 0.45
Absorption
Ceiling or Wall
1-3/8″
A
No Backer
ASTM C423
NRC – 0.55
Absorption
Ceiling or Wall
2″
A
No Backer
ASTM C423
NRC – 0.75
Absorption
Ceiling or Wall
1″
C-25
1″ CFAB
ASTM C423
NRC – 0.80
Absorption
Ceiling or Wall
1-3/8″
C-25
1″ CFAB
ASTM C423
NRC – 0.85
Absorption
Ceiling or Wall
2″
C-25
1″ CFAB
ASTM C423
NRC – 0.90
Absorption
Ceiling or Wall
1″
C-50
2″ CFAB
ASTM C423
NRC – 0.85
Absorption
Ceiling or Wall
1-3/8″
C-50
2″ CFAB
ASTM C423
NRC – 0.90
Absorption
Ceiling or Wall
2″
C-50
2″ CFAB
ASTM C423
NRC – 0.95
Absorption
Ceiling or Wall
1″
D-20
3/4″ Airspace
ASTM C423
NRC – 0.50
Absorption
Ceiling or Wall
1-3/8″
D-20
3/4″ Airspace
ASTM C423
NRC – 0.60
Absorption
Ceiling or Wall
2″
D-20
3/4″ Airspace
ASTM C423
NRC – 0.75
Sustainability
Envirocoustic prioritizes sustainability in every aspect of production. The wood-wool insulation is crafted using recycled or sustainable materials, reducing environmental impact and promoting the efficient use of resources. Manufacturers also embrace eco-friendly production processes that avoid the use of harmful chemicals, making Envirocoustic panels a greener and healthier choice for construction projects.
Acoustical Surfaces—Wood Wool Panels for Any Space
When tectum was first introduced to the market, it was groundbreaking. Since then, it has inspired a new generation of wood wool-based products like Enviorcoustic, which is the natural evolution of wood wool insulators—better able to meet the desires and demands of today's construction and design sectors.
Do you have an upcoming project that requires insulation in the ceilings, walls, or floors?
At Acoustical Surfaces, our Envirocoustic wood wool ceiling and wall products are eco-friendly, high-performance, and cost-effective. Whatever your acoustic needs may be, our products can reduce echo and reverberation through sound absorption.
To learn more, contact us today.
Sources: