Print Page
Echo Barrier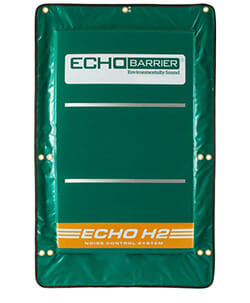 The Echo Barrier available at Acoustical Surfaces is a reusable indoor and outdoor acoustic barrier. Reduce unwanted noise and lower the noise level with our sound barrier wall today.
Sound Barrier Fence: The Industry's First Reusable, Indoor / Outdoor Acoustic Barrier / Absorber.
Industrial durability
Simple and quick installation system
Lightweight for easy handling
Unique roll-up design for compact storage and transportation
Double or triple up for noise 'hot spots'
Ability to add branding or messages
Range of accessories available
Weatherproof – absorbs sound but not water
1 person can do the job of 2 or 3 people
Product Testing & Information

Product TAG
---
Why is it all too often we see construction sites with fencing but no regard for sound issues created from the construction that is taking place? This is due to the fact that there has not been an efficient means of treating this type of outdoor noise that was cost-effective until now.
Echo Barrier temporary fencing is a reusable, outdoor acoustic barrier. This noise barrier fence is designed to fit all types of temporary fencing. This sound barrier fence absorbs sound while remaining quick to install, light to carry, and tough to last. The Echo Barrier can be used as a temporary sound barrier in place of your typical wooden fence or chain link fence. Construction sites produce noise levels found on all sides of the sound transmission class spectrum. By using our acoustic fence panels for sound absorption, you can be mindful of everyone around you while still completing the job.
The durable design allows for uses across different projects, and these barriers can be rolled tight in order to store away easily and be moved from one project to the next. Additionally, these barriers are fire retardant and weatherproof, absorbing sound but not water, in order to provide commercial-grade noise solutions for construction sites, concerts, and many other outdoor and indoor venues.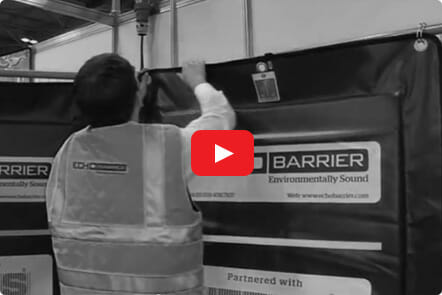 Testimonials
Product Specs
Echo Barrier outdoor soundproofing fence can help reduce noise complaints, enhance your company reputation, extend site operating hours, reduce project timescales & costs, and improve working conditions.
This sound barrier fence works great for construction & demolition sites; rail maintenance & replacement; music, sports and other public events; road construction; utility/maintenance sites; loading and unloading areas; outdoor gun ranges.
10-20dB noise reduction (greater if sound barrier fence is doubled up)
This outdoor acoustic barrier is easily installed using our quick hook system and specially designed elastic ties.
Echo Barrier Transmission Loss Field Data
125Hz
250Hz
500Hz
1KHz
2KHz
4KHz
8KHz
Single Layer
6
12
16
23
28
30
30
Double Layer
7
19
24
28
32
31
32