Print Page
Noise S.T.O.P.™ Perforated Vinyl Acoustic Wall Panels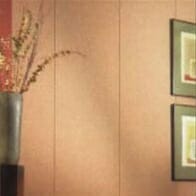 For Easy Cleaning and Durability In a High Performance Acoustical Wall Covering Great Sound Absorption
Durable
High Performance Acoustics
Washable
Product Testing & Information
---
Noise S.T.O.P. Perforated Acoustical Vinyl can be used in cafeterias, restaurants and lunchrooms where washability and periodic maintenance is desirable.
Product Specs
Easy clean microperforated acoustical vinyl available in subtle textures and colors. Also available in standard perforated and microperforated.
Great for home theater, home studio, multi-purpose rooms, healthcare facilities, auditoriums, music rooms, offices and any place you need high durability and easy clean acoustical facings.
Custom (Max Size 4′ × 10′)
ASTM E-84 Class 1-A, Nonflammable