Print Page
Echo Eliminator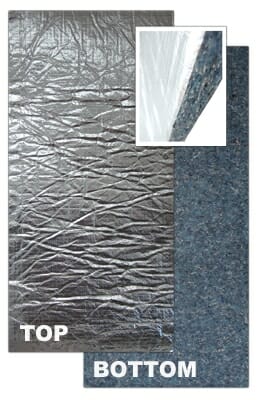 Plenum Barrier – Sound Absorber – Blocker
User Friendly
No Fiberglass
Economical
Recycled Material
Eligible for LEED™ Credits (more information)
Product Testing & Information

Product TAG
---
Product Specs
8 lb. Bonded Acoustical Cotton (B.A.C.). Recyclable, Fiberglass Free.
Soft Textured Surface, Foil FRK one side.
Economical, Multi-Purpose, High Performance Absorption combined with STC value. Adhesively apply or hang as a baffle
The Echo Eliminator plenum barrier is a sound absorbing barrier that is perfect for Gymnasiums, Auditoriums, Classrooms, Music Rooms, Arenas & Stadiums, Churches, Offices, Computer Rooms, Restaurants/Cafeterias, Residential, Concert Halls & Theaters, Pro Audio, Gun Ranges, Manufacturing Plants, Machine Enclosures, Water Treatment Plants.
Light Blue, FRK on opposite side
BAC Panel – Sound Absorption
Size
Mount
125Hz
250Hz
500Hz
1KHz
2KHz
4KHz
NRC
1″
A
.09
.24
.86
.98
.98
1.03
.75
BAC Panel – Sound Transmission Class
Size
125Hz
250Hz
500Hz
1KHz
2KHz
4KHz
STC
1″
12
12
14
13
20
29
17