Print Page
ADJUSTABLE DOOR SEALS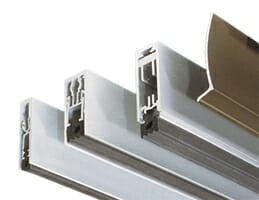 Surface Mounted Automatic Door Seals
Before deciding on what Acoustical Door seals are right for your next project, make sure that you measure your doors to know what you need. Acoustical Surfaces features adjustable dimmed to exactly fit any door for your next project. Some of the benefits of these door seals include:
Reduces Sound Through Door Seals
Economical
Easy to Install
Durable
Product Testing & Information
---
How to Measure
Note: All door seals over 24″ can be trimmed up to 1″ & door seals that are 36″ or 42″ can be trimmed up to 3″.
Some field trimming may be necessary for the best fit. For best cut, pull neoprene gasketing out of housing and cut with a compound miter saw/chop saw.
**Do not cut neoprene gasketing until you are sure the door bottom fits exactly.