Soundproofing with Rockwool: Everything You Need to Know
Nobody aims to disturb the peace. But whether it's due to heavy equipment and machinery, or the school band's percussion section practicing their drum rolls, noisy activities can be a nuisance to adjacent rooms, close-by establishments, and near neighbors. In worst-case scenarios, turning the volume up too far could even result in facing legal action against you.1
Tha said, you can't simply stop running your business, or tell fledgling musicians to give up on their dreams. 
That's where soundproofing with rockwool presents a savvy solution to your room acoustics and noise-canceling needs. Padding your walls and ceiling with stone wool insulation gives you the liberty to hammer away freely, whether it be on nails or drum skins. 
What is Rockwool?
Rockwool, commonly referred to as mineral wool, is a material typically used for noise reduction and insulation in both commercial and residential settings. It's touted for the exceptional sound-isolating (and flame-retardant) qualities its mineral fiber makeup boasts. It's no surprise, then, that it's been used in a wide scope of construction projects for more than sixty years.2
Mineral fiber (or mineral wool) insulation is derived from raw components such as basalt, diabase, and dolomite.3 These are typical minerals commonplace in rocky volcanic regions and limestone deposits,4 meaning the ingredients that compose rockwool are easily sourced and naturally-occuring. Increasingly, mineral wool insulation is being made from partially-recycled waste materials, such as used-up charcoal briquettes, as well.3
Rockwool also benefits from a fairly basic production process. Simply put, raw minerals and recycled scraps are melted down and pulled into strands by mechanical rollers (hence the terms wool and fiber). These fibers are then compressed and cut into dense mats, with any scraps being melted back down to close the recycling loop instantly.5 
The simplicity of rockwool's production means it's usually made near its final point of installation, resulting in a minute carbon footprint.2 Furthermore, mineral fibers are not hazardous to respiratory systems (a common misconception) or linked to other health risks.6 Rockwool also comes in firm, easy-to-handle boards that are a breeze to install in comparison to the hassle of puffy, itchy fiberglass insulation. Learn more about mineral wool vs fiberglass.
Rockwool presents a sustainable, safe, and simple solution to insulating your space. But, is rockwool good for soundproofing? Can it stand up to the loudest of noise containment needs? Let's find out.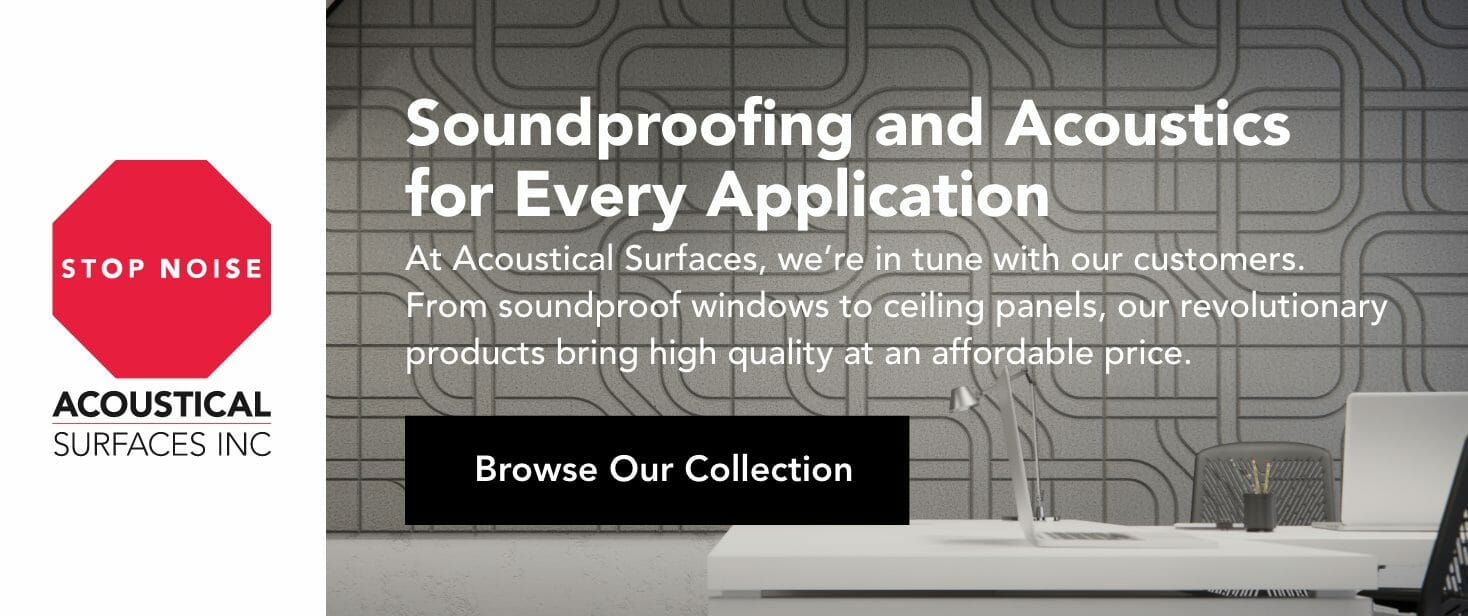 Is Rockwool Good for Soundproofing?
There's loud, and then there's LOUD! While it's not ideal to be surrounded by ear-shattering noise, you need to trust that your sound stays inside, even when the volume levels become deafening.
Rockwool insulation prevents the transmission of sound through walls by reflecting it back towards the source. The dense composition of the mineral wool's fibers stops noise from penetrating surfaces and holds it in a specific area.7 Mineral wool is also a common material in the production of sound, but these products serve to manipulate and dampen noise within a space rather than contain it.8
Noise Reduction by the Numbers
From fingers quietly tapping on a keyboard to the roar of a jet engine, every noise's volume can be measured in terms of decibels (dB). 
While many factors contribute to a partition's noise reduction capacity, insulating with mineral wool effectively reduces the amount of dBs that squeeze through surfaces. Fortifying a simple cubicle divider with rockwool can decrease noise by up to 10 dB.9 In an office environment, that's equivalent to reducing intrusive chatter to mellow background noise.10
A material's Noise Reduction Coefficient (NRC) measures its ability to absorb sound on a scale of 0 to 1, with a higher score representing a larger percentage of absorption. A comparison of common soundproofing insulation materials shows mineral wool outperforms others when it comes to locking sound in:11
Mineral Wool

– 1 (Perfect!)

Spray Foam

 – 0.75 

Cellulose

– 0.75 
Another metric, Sound Transmission Coefficient (STC), measures a product's ability to block sound from transmitting through a surface. In this department, rockwool scores a superior 43 versus its competitor spray foam's lower range of 37-39.11
Numbers speak volumes, but what do they mean for a space full of clunking machinery or fanatical concert-goers? How can rockwool be employed as an effective solution to a business's real needs for noise reduction?
Soundproofing with Rockwool in Practice
When it came time to put a new roof on the Queen Elizabeth Stadium in London (the main site of the 2012 Olympics), acoustics were amongst the top priorities. Architects for the project envisioned a concave, retractable design that could reflect the roars of the crowd, creating an electrifying atmosphere inside whilst preserving the peace in the surrounding area. In order to create this haven for music and sports fans, the stadium's renovators turned to rockwool.12
While containing the chants of sixty-six thousand strong is certainly an impressive feat, it's merely one end of the spectrum of rockwool's possible applications. 
Schools – Rockwool is used to isolate classroom discussions and prevent a build-up of ambient noise in common areas. Educational institutes have standards to conform to regarding interior and exterior volume, and mineral fiber sound insulation helps buildings stay up to code.13

Concert Halls – The architects renovating The Royal Academy of Music in London elected to use mineral fiber insulation in the roofs and walls of their grand design. Purposeful installation of acoustic surfaces in the performance halls funnels sound to the audience without echo or reverberation. In the dressing rooms and practice areas, rockwool encloses noise and allows musicians to warm up freely.14
Subway Systems – In order to dampen the rumbles of oncoming trains and roars of rush hour crowds, Farringdon Station in the London Underground trusts rockwool in its tunnels, walls, and ceilings.15

 

Commercial Buildings

– Whether you're

soundproofing office

spaces, shopping centers, or industrial complexes, you can use rockwool to insulate against the noise produced from human interaction, infrastructure, and machinery.
Rockwool is a prime candidate for vastly different commercial applications due to not only its soundproofing capabilities, but also its adaptability. It can be tailored to fit all kinds of spaces and suited to meet a business's specific noise-reduction requirements. 
How to Soundproof with Rockwool
A rockwool insulation slab conforms to a building's contours and goes in easily. Unlike softer insulations, mineral wool isn't a big puff of pain to work with. It comes in convenient sound insulation slabs that don't flop and flake apart. 
Rockwool can be used to fortify interior and exterior walls, ceilings, and floors against escaping noises. How to install it depends on the kind of space you're working with. 
Soundproofing Walls with Rockwool
Soundproofing walls is best done before installing drywall or any other sound absorbing panels.
When a room is framed and ready to insulate, affix your chosen paneling to one side of the frame. Install rockwool in the gap in the wall, making sure the edges of the slab conform snugly to the perimeter of the framing. 
If you need to cut mineral wool insulation to size, it is best to use a serrated knife and move in a sawing motion. 
Install the cover panel on the other side. If using drywall, two sheets tightly glued together offers better soundproofing potential than a singular board on both sides.
No matter your partition's material, the key to soundproofing is to eliminate gaps. Even a hole in the wall insulation or paneling as small as 1% of a wall's size can lead to 50% more noise lost from a space.16 Adding acoustic sealant to any small cracks can help remedy such noise loss.
Fortifying Floors with Mineral Fiber
Installing floating floors is an exemplary way to prevent noise from escaping right beneath our very feet (literally). 
This style of flooring employs a soft, elastic layer of spongy material installed under the top level of flooring called a floating mass. This underlay is in place to aid in soundproofing and sound absorption. 
A mineral fiber sound insulation slab makes an excellent choice for floating masses due to its high density. Not only are they optimal for preventing the transmission of sound, but durable enough for areas with heavy foot traffic and large equipment.17
Rockwool for Sound-Containing Ceilings
Soundproofing ceilings can be a tricky endeavor due to the weight insulation adds to a structure and the force of gravity. While it is possible to float a ceiling like one does a floor using specially designed clips, it's not always necessary.
Depending on one's specific needs and just how loud a space may get, it's also possible to affix mineral fiber sound-diffusing panels to the ceiling. While not as effective as soundproofing with rockwool insulation, this noise control method is a simpler solution for rooms that don't get overly rowdy.18
Control Noise with Rockwool
Sound loss is a real issue. If your leaky walls are making your company's trade secrets the whole street's business, it's time to lock noise in with the trusted soundproofing professionals at Acoustical Surfaces.
Whether you're trying to keep the beat in a nightclub, keep the hum of traffic out of a restaurant, or keep a learning environment free from obnoxious distractions, Acoustical Surfaces can help you select the mineral fiber products best suited to your needs. With various thicknesses and styles of boards to choose from, we'll find the right fit for your project.
We provide industrial soundproofing solutions as well. Walls made of metal without a square of drywall in sight? Not a problem! From sound insulation to absorption, rockwool can be catered to meet the needs of your factory, body shop, or storage facility.
Consult our team today and rest easy knowing that your sound is safe inside your space.
Sources: