Print Page
Perforated Vinyl Ceiling Tile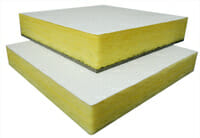 Perforated Vinyl Acoustic Ceiling Panel
Enhance the acoustic performance of your interior space with our premium vinyl ceiling tiles. Designed to strike the perfect balance between aesthetics and functionality, our perforated vinyl ceiling tiles offer superior sound absorption properties while adding a touch of elegance to any room. Whether you're looking to improve the acoustics of a commercial building, office space, or educational facility, our vinyl ceiling tiles are the ideal solution.
Product Features:
Superior Sound Absorption:

Our

vinyl ceiling tiles

are engineered to absorb

sound energy,

effectively

reducing echo

es and minimizing

noise distractions

. Experience enhanced

acoustic performance

for a more comfortable environment.

Aesthetic Appeal:

With a wide range of designs, colors, and textures, our

vinyl ceiling tiles

effortlessly complement any

interior decor

. Achieve a polished, professional look while optimizing the

acoustic performance

of your space.

Easy Installation:

Designed for hassle-free installation. With various installation methods available, including drop-in, glue-up, or suspended

grid systems

, transforming your

ceiling

has never been easier.

Durability and Maintenance:

Made from high-quality materials, our

vinyl ceiling tiles

are built to last. They are resistant to moisture,

mold, and mildew

, sagging ensuring long-lasting performance. Plus, they are easy to clean, making maintenance a breeze.
Product Testing & Information
---
Product Specs
Semi-rigid fiberglass with perforated vinyl facing. Available with mass loaded vinyl barrier backer.
Standard – Nominal 2′×2′, 2′×4′
Available in 4′×4′ and 4′×8′; Custom sizes also available.
Ceiling tile applications where high acoustical performance is required.
0.5 lb/sf for 1″, 1 lb/sf for 2″
Class A Fire Rated per ASTM E84

Easily cleaned with soft brush or vacuum.
Perforated Vinyl Ceiling Tile – Noise Reduction Coefficient
Mount
125Hz
250Hz
500Hz
1KHz
2KHz
4KHz
NRC
1″
E
.69
.95
.85
1.06
1.11
1.08
.95